123Uploads
11k+Views
2k+Downloads
Languages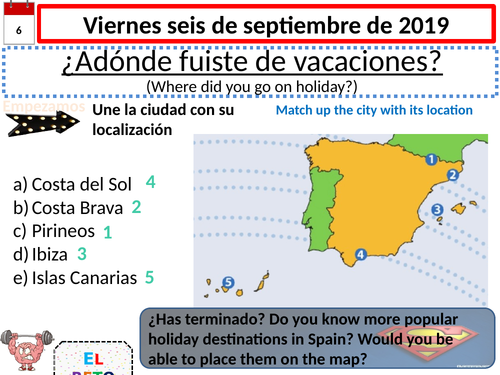 4 lessons based on Viva 2 module 1, mis vacaciones (de vacaciones, que hiciste, el último día and cómo te fue)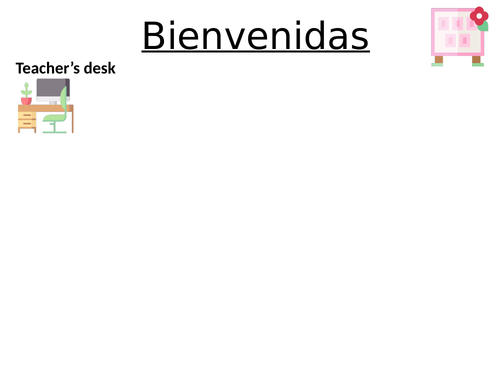 Start the year right by using only target language in your first lesson! Easily adaptable -rules and expectations, introduction, book sorting + icebreaker, all in Spanish.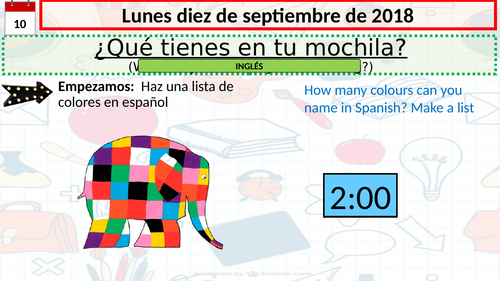 Two lessons based on MIRA 1 to introduced gender in Spanish. Contents: Vocabulary (in my pencilcase) Un/una Hay/no hay different games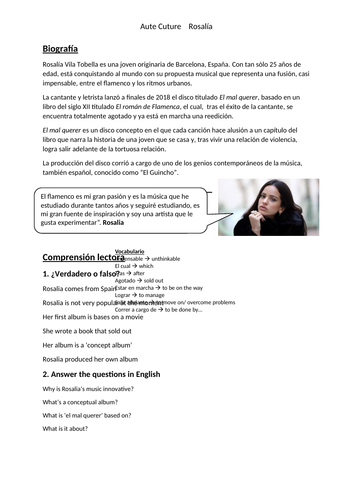 A whole lesson on Rosalia's new song 'Aute Cuture'. Power point + worksheet. This lesson contains -Authentic text with information and a bit of Rosalia's biography -Reading comprehension + optional vocabulary support A video activity for students to find the meaning of certain expressions from the song through an interview with the artist Lyrics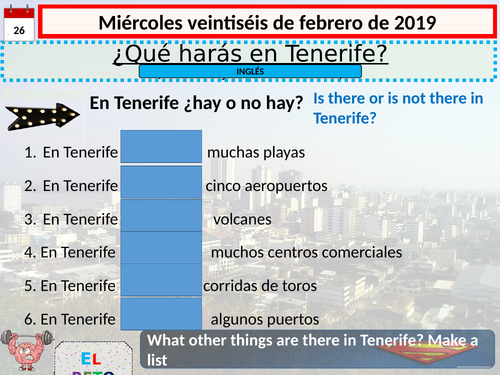 Four lessons based on topic 2 from Viva (foundation and higher combination) for mixed ability groups. Lesson 1 hay/no hay recap tenerife (videos and cultural information) reading and introduction of the future tense writing: plan a weekend in Tenerife, what will you do? Lesson 2 future recap reading comprehension listening speaking game Lesson 3 weather in the future tense (more complex expressions) reading comprehension listening task design your own weather forecast Lesson 4 verb tense revision (time line) writing task (GCSE style + grading criteria)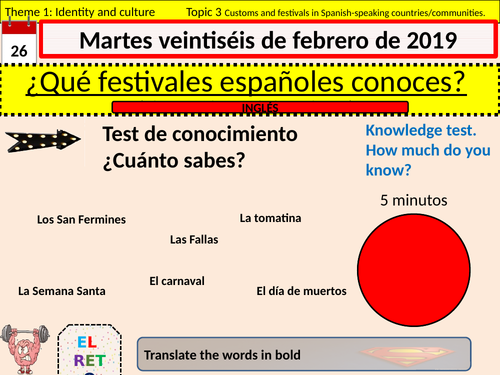 Two lessons aimed at teaching festivals in a very simplified way (excellent resource if you have had no time to cover this topic). Lessons are based on Viva. Lesson 1: Knowledge test -match up festival with description + key vocabulary guess the festival -video activity reading and introduction of passive voice grammar- how to avoid passive in Spanish (structures with SE) avoid the passive practise Lesson 2 Revision on present tense conjugation Fill in the gap, GCSE reading type task on Dia de Muertos Translation There is an additional reading comprehension question in the style of GCSE section B (questions and answers in Spanish)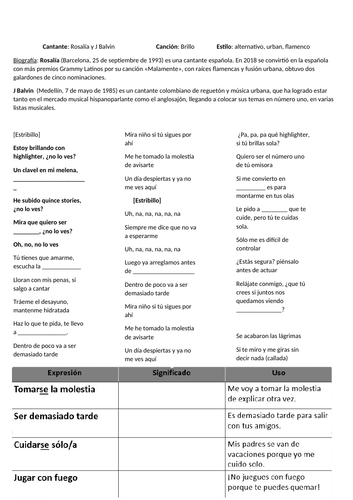 Authentic resource / Song Powerpoint + worksheet Perfect to strech high ability students/motivate difficult groups/Friday afternoons Lesson contains: Introduction with a brief biography about artists lyrics -gap filling activity idioms and expressions from the song translation match up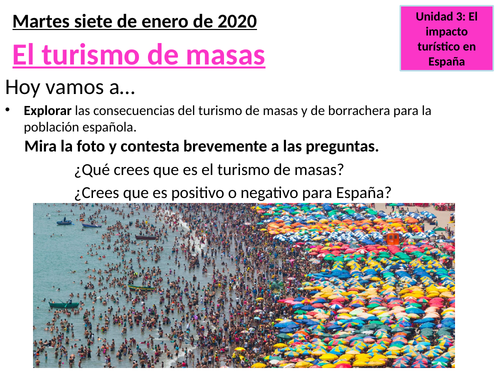 A lesson on ´turismo de masas´for A level Spanish students.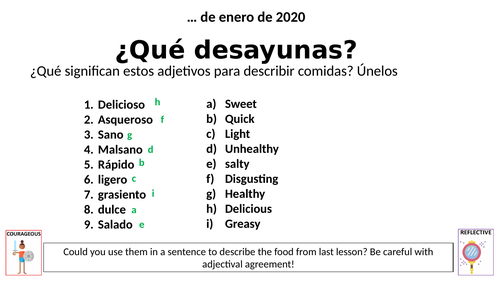 2 lessons based on 'qué desayunas' (module 3, viva 2) aimed at Year 8. Includes sentence builder.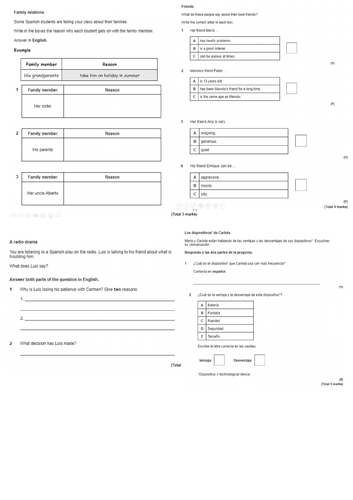 A lesson about strategies and practice questions for the Spanish listening paper for higher and foundation students. (AQA) Listening tracks are included in the powerpoint.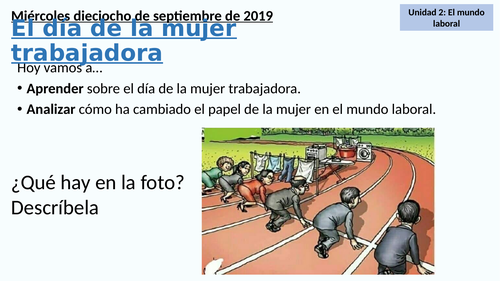 Two lessons based on Unit 2. El día de la mujer trabajadora y mujeres que hacen malabarismos.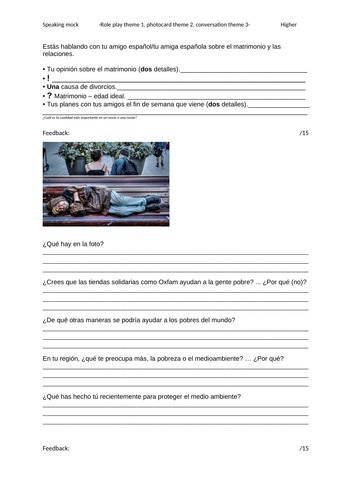 6 different worksheets for students to practice their speaking (3 foundation and 3 higher) based on past papers. Each worksheet has a role play, photocard and conversation questions on three different themes.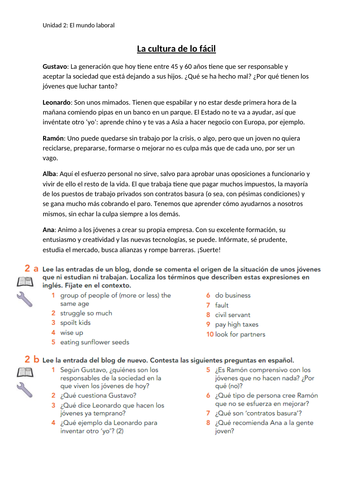 Introduction to module 2 'El mundo laboral'

2 lessons based on Viva 3 module 2 hotel catástrofe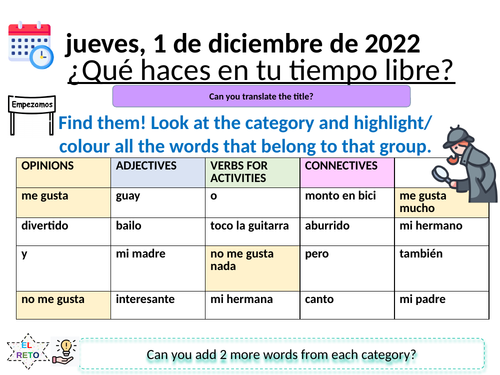 Two lessons on this chapter from viva 1 'cantas karaoke'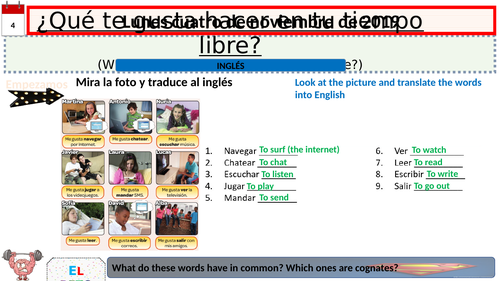 2 lessons based on Viva 1 - module 2. ¿Qué te gusta hacer? Present tense and opinions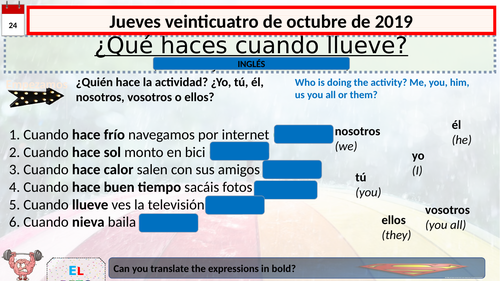 2 lessons based on this chapter from Viva 1 'qué haces cuando llueve´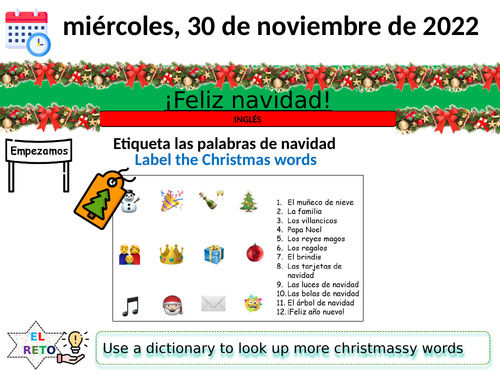 A Christmas lesson aimed at year 6/ year 7 students of Spanish. Full of games on Christmas vocabulary. Great lesson for the end of term.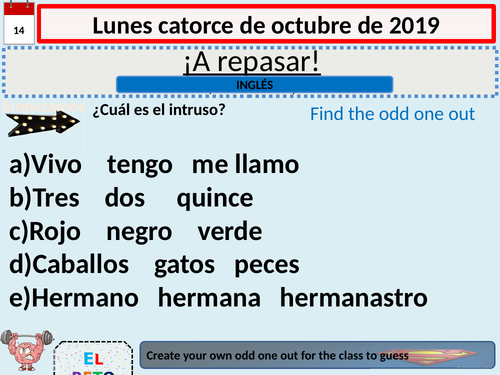 A lesson full of games to revise the content of the first unit of the book.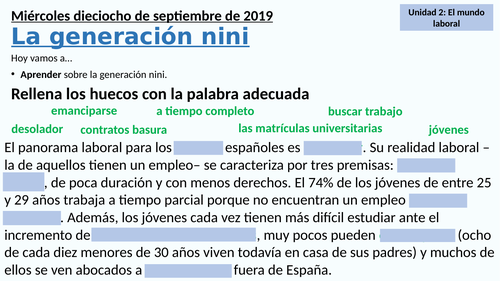 One lesson on 'la generación nini'. Year 12, unit 2, el mundo laboral.