123Uploads
11k+Views
2k+Downloads
Languages

Lesson to introduce preterite tense based on page 67 from viva higher. Grammar focus. Sports and preterite tense (regular and irregular verbs) formation (with practise). Simple lesson to revise preterite before you introduce imperfect tense.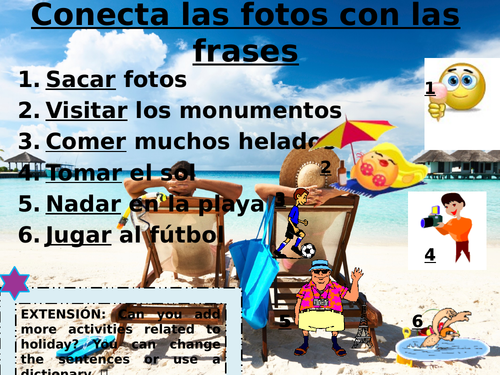 Amazing resource full of games and creative approaches to teaching Spanish near future. Perfect for observations and interview lessons!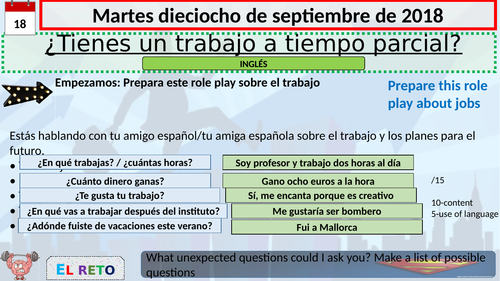 A lesson based on page 140 from Viva Higher. The power point contains: Role play on the topic of jobs. Use of lo/la pronouns to avoid repetition. Reading from page 140 -Viva Higher (with some modifications) in a GCSE style.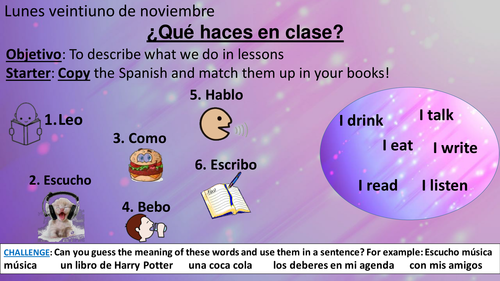 ¿Qué haces en clase? Based on Mira 1, Year 7 Spanish, ideal for observations

Two lessons based on module 2 viva 3 'cómo va a ser tu futuro'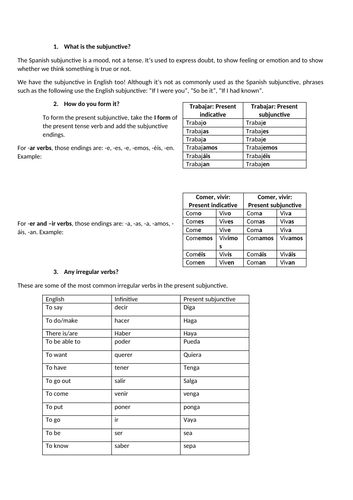 A lesson on subjunctive in Spanish designed for mixed ability groups. Student centered with AFL activities differenciated by tiers and a sentence builder for weaker students.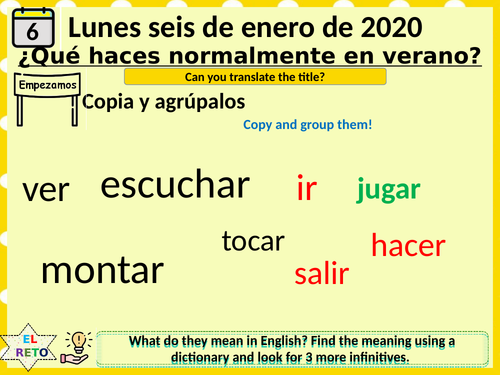 Two lessons based on VIVA higher and foundation -all abilities, well differenciated lessons.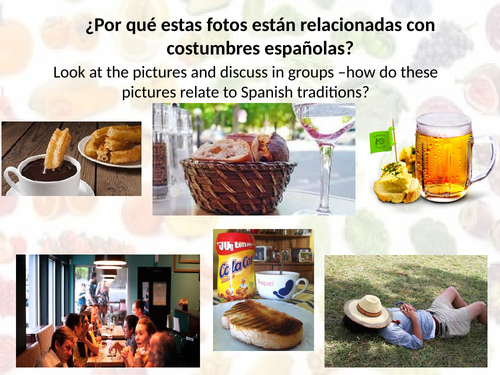 6 lessons based on Viva (foundation and higher) but not necessarily following the book. The lessons contain a lot of cultural knowledge on the topic of food in Spain and GCSE speaking tasks to practise it, as well as authentic resources and two games to practise speaking and tenses. Your students will love it! Lesson 1 - eating habits in Spain Very scaffolded reading comprehension (authentic resource) Lesson 2 - main meals listening task using a youtube video speaking -English or Spanish tradition? photo task Lesson 4 Foods Tense revision Tense wheel -game Writing using 6 tenses (present, preterite, imperfect, near future, simple future, present perfect) Lesson 5 Food, vocabulary consolidation from Viva Listening REading Role play GCSE Lesson 6 Typical Spanish foods and ingredients Reading comprehension (authentic resource) Pinball speaking game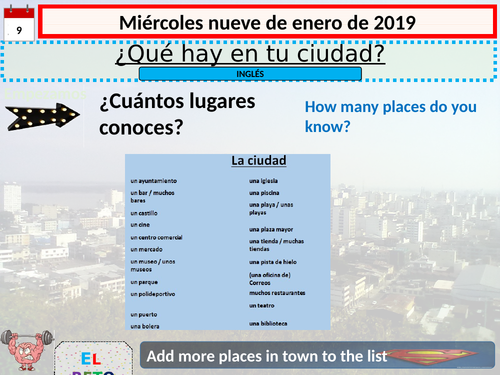 Ciudades, module 5 (Viva). Punto de partida 1, punto de partida 2 and Los pros y los contra de la ciudad. Five lessons aimed at mix ability groups. Lesson 1: Vocabulary (places in town) Reading Grammar (muchos,algunos, unos) Listening (viva higher) speaking Lesson 2: Shops Reading /vocabulary practise Listening (higher) Reading (shop adverts) Design your own shop Lesson 3: Buying souvenirs Speaking Role play listening (higher) Role play task (AQA) Lesson 4: Good and bad things about the city Listening (foundation) Reading (GCSE type) Speaking Lesson 5: Conditional tense Reading Reading comprehension Elections for mayor Writing your own speech to be mayor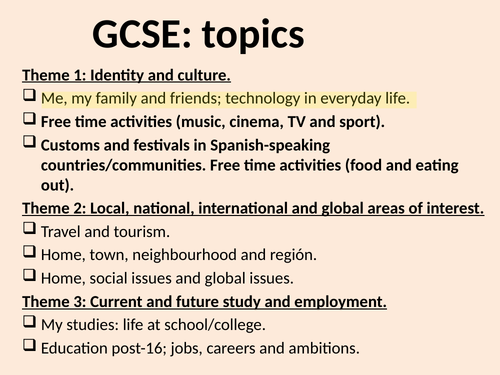 4 lessons based on Viva (foundation and higher) to revise the topic 'Me, my family and friends; technology in everyday life' from Theme 1: Identity and culture. It includes conversation questions. Ideal for mixed ability groups.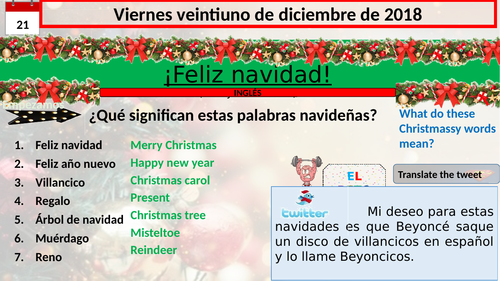 A very challenging lesson on christmas for your GCSE spanish groups. Tell your students all about Christmas in Spain and use the powerpoint and the visual clues to support understanding (all the information is written on the notes just in case you need help with the target language). Keep using TL until the very last day :) The lesson includes a Christmas quiz for a different lesson as well. (I normally ask my students to make notes and share what they understood after I give them information for each day)

Three lessons based on VIVA module 4 'punto de partida/intereses e influencias' and ¿qué sueles hacer? (mixture foundation and higher). Grammar focus (present tense and stem-changing verbs).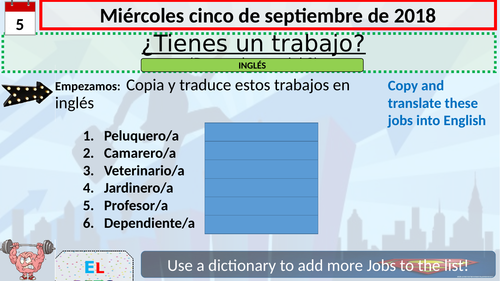 2 lessons based on Viva Higher PUNTO DE PARTIDA -JOBS (not strictly following the book but listening is from Viva Higher).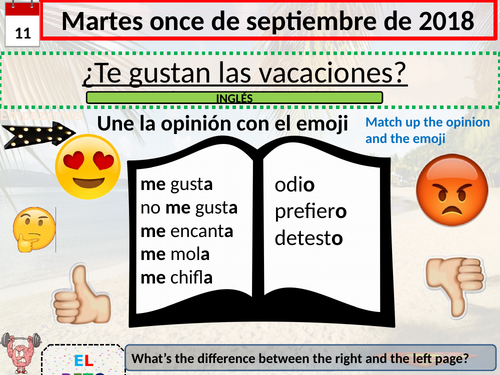 These two lessons are based on VIVA (not strictly following the book). Listening activity is from VIVA higher (page 6). Both lessons' main focus is the correct use of opinions (variety of opinions) and the use of the third person singular when giving opinions.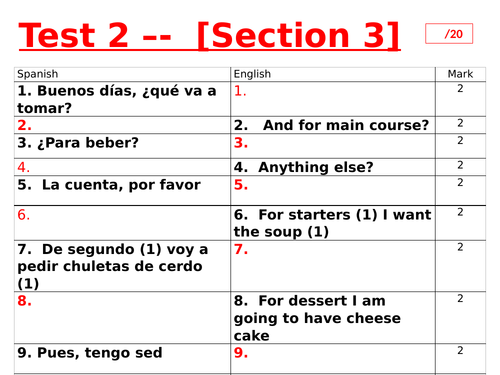 Two lessons based on chapter 4, module 3 from viva 2 book. Includes sentence builder.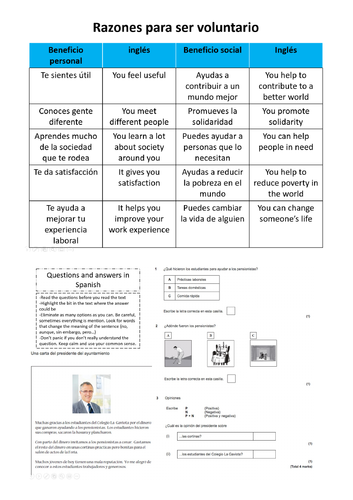 3 lessons on poverty and homeless aimed at Y11 mixed ability group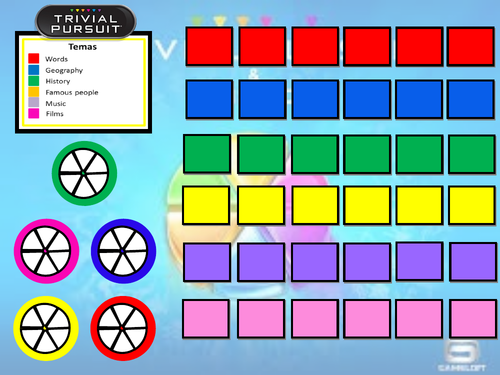 Trivial pursuit -Spanish culture quiz but easily adaptable to other topics by using the template. The power point contains: Trivial pursuit Interactive board with questions for 5 players. Perfect resource for the end of year.

26 lessons to cover the topic of holidays based on Module 1 from Viva. -Activities in the present tense -Activities in the past tense -Imperfect tense and hotel description -Hotel reviews and problems -Disaster holidays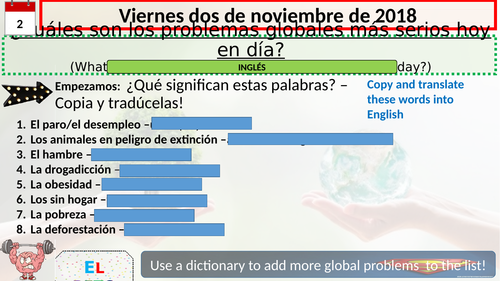 This unit of work contains 10 lessons to prepare your students for the general conversation (theme 2, social issues and global issues).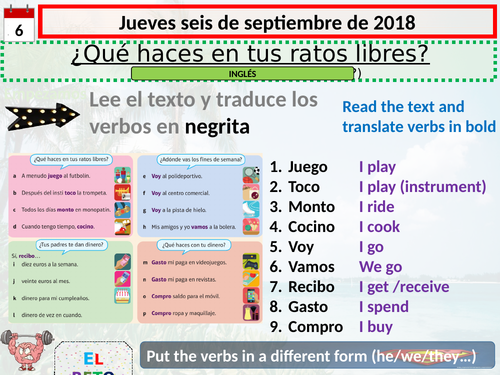 This unit of work contains 18 lessons to prepare your students for the general conversation on theme 1, Identity and culture. It's based on Module 4 from Viva (higher and foundation), Free time activities(music, cinema, TV and sport). It covers topics on free time and tenses (present perfect, imperfect, preterite and present tense).