aquilla.v2
A Level, GCSE and KS3 Art & Design, Photography and Graphic Design Teacher
68Uploads
6k+Views
2k+Downloads
A Level, GCSE and KS3 Art & Design, Photography and Graphic Design Teacher
Full introductory GCSE Art & Design presentation taking students through various digital and hands on tasks. All tasks link to the theme of Metamorphosis and includes workshop ideas, analysis tasks and development help towards an outcome. Originally used during online distance learning last year, each student makes a copy of the presentation and adds work week by week to show development. This was used for a pre GCSE Year 9 group to give a flavour of work which may be covered but could easily be used to begin a GCSE course or encourage online participation. Lots of media exploration and experimentation is encouraged, with consideration of equipment. Some tasks cover both digital and hands on art, focused on giving a taster of both GCSE Art and Photography course content. Techniques covered: Insect drawing Projection Photography Shutter speed photography Still life photography and drawing Illustration Dry point printing Digital illustration Moodboard research and presentation Compositional development Outcome development and documentation Final Outcome evaluation Exhibition Poster extension task.
A one off Art & Design cover lesson challenging students to create an illustration for a skateboard deck. The sheet explains the task and success criteria, as well as offering visual examples for inspiration. Students are to select one of the eight starting points provided and complete their illustration in the skateboard template, also on the sheet. This task may be extended to allow students to complete their designs digitally, adding colour and texture through Photoshop or Photopea.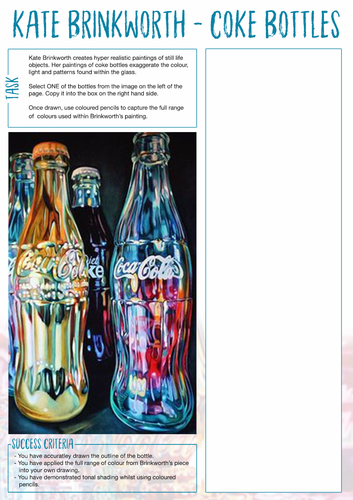 A cover lesson worksheet which challenges students to take a section of Kate Brinkworth's coke bottle paintings and replicate them using pencil colours. The task is designed to allow students to practice their use of ellipses whilst drawing, before applying colour knowledge and shading to complete the piece. This is a stand alone worksheet with instructions and success criteria.
A one off activity worksheet allowing students to explore 90's aesthetics and create their own take on the famous MTV logo. Students are encouraged to think creatively about the task and consider the range of examples already at hand. Download also includes the MTV outline, which can be printed and added to. Students may wish to draw the shape from scratch, or even use digital platforms to produce their design. Emphasis is very much on shape, colour and composition. Please note this is a worksheet activity and not a lesson presentation. Great for Art or Graphic Design cover work!
A selection of slides to introduce students to the portrait paintings of Lucian Freud. The first task is a digital based tutorial which walks students through a low poly tutorial to create a geometric self portrait. This allows students to consider the face in a 3D format and appreciate the full range of skin tones within any face. Students then move on to applying these various tones by mixing colours and painting over their digital piece. Finally, students are encouraged to work in the style of Lucian Freud to complete their own expressive self portrait. They should be able to apply the skin tones and contour directions from tasks one and two to complete their piece.
A step by step guide taking students through a layered portrait Photoshop tutorial. The slides have easy to follow Photoshop instructions, with examples and screenshots to suit most learning styles. The end product should be achievable within an hour lesson, provided students have a prior knowledge of Photoshop. The slides can be sent to each student to make a copy and attach screenshots, final outcome and written analysis, too.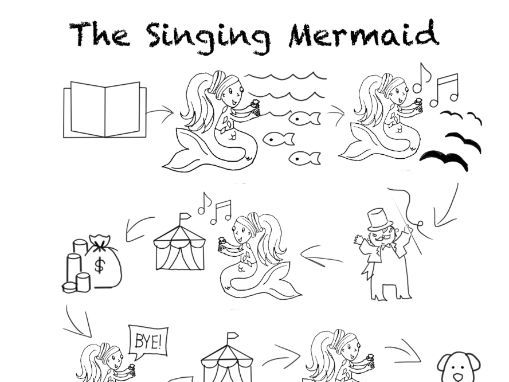 Hand drawn story map for Julia Donaldson 's 'The Singing Mermaid'. The map illustrates key points of the story on an A4 sheet. There is also a blank copy of the map, with only the illustrated Mermaids for students to draw their additional parts around.
A selection of slides guiding students through a repeat pattern process on Photoshop or Photopea. The design requires students to experiment with marbling techniques before following the slides to repeat and manipulate their pattern on Photoshop. Suitable for Art & Design, Photography, Graphic Design and Textiles Design for GCSE and A Level.
A presentation introducing the street art of Malaysia. Students are guided through inspiration and talking points on the value of street art and more culturally aware designs by Ernest Zacharevic. Originally completed during distance learning, students completed a drawing or painting which interacted with the selection of blank wall space suggested in the slides. Once complete, a simple overlay using SCREEN on Photoshop allowed them to superimpose their designs onto their building or textural surface.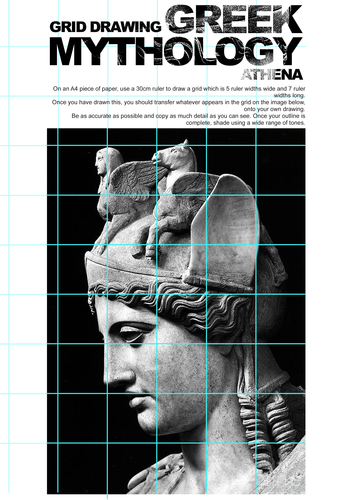 2 x Greek Mythology grid drawing worksheets. A photograph of a statue of Medusa and one of Athena. Students are asked to copy the grid lines onto their A4 piece of paper and copy box for box from the sheet. A good activity for scaling images and building confidence with portrait drawing, which can be used as a starting point for further exploration into Greek Mythology.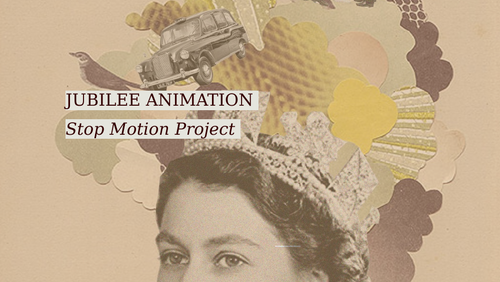 A Powerpoint guide to creating a stop motion animation using iPads and the free Stop Motion Studio app. The download also includes a cut out sheet of props to help create the suggested collage in the style of designer Eleanor Woods.
An easy to use document which helps students consider the links between their artist research and analysis. Originally designed for EAL students, the easy questions help students to structure their annotation and analysis. Before beginning their next set of artist responses, they are to consider what techniques and styles to develop and use from their original starting point.
Mini GCSE Photography project exploring contemporary food photography. Emphasis on students exploring lighting and camera angles to capture work in the style of: Vanessa McKeown Albert B Balein Ryan MacEachern Slides include analysis questions and diagrams to support photoshoots. Final Ryan MacEachern tasks allows students to develop more conceptual outcomes, linking research into food types into data driven photoshoots.
A poster highlighting 12 ways which Graphic Art students can try to improve their handmade typography.
A unit of work centered around the British Pop artist, Peter Blake. The slides introduce students to the Pop Art movement before directing a self portrait in the style of the iconic artist. Students will also consider collage and modern popular culture whilst creating their own 'Sources for Pop Art'. The final task is a cross curricular challenge to produce a collaged vinyl record design, in the style of Blake's 'Sgt Pepper's Lonely Heart Club Band', depicting 10 key events in History.
GCSE Photography digital sketchbook - shared with students who create their own online sketchbook. Centered around the theme of WANDERLUST, tasks allow students to enjoy experimental photography using clever photography hacks. All shoots can be completed using a mobile phone and edits can be made using Photopea.com.
A Powerpoint exploring the theme of jungle through typography and illustration. The slides begin with a step by step guide to creating a leafy letter using Photopea. Students then develop an illustrated book cover for the Jungle Book using Henri Rousseau's paintings as inspiration. Originally used during online learning, there are differentiated tasks to consider resources found at home and online accessibilty.
A step by step guide for students to create posters in the style of Zeka Designs. The content helps in creating work based on European architecture but can be adapted to suit a portrait project. Written instructions for Photopea included, as well as analysis prompts to break down the contextual sources. Originally completed with Year 9 as an online project but also suitable for GCSE Photography and Graphic Design.
A selection of tasks focused around altering old books into pieces of Art. The presentation offers 3 short projects for KS3 students, each creating a different style within the overall main theme. Year 9 project challenges students to create their own Harry Potter film prop, using one of the titles from the series. This is a hands on, mixed media 3D project which encourages exploration of texture and material. Year 8 look at the work of Kelly Campbell and her illustrations of bugs and insects. Eventually, they are presented in an old book and a front cover designed as a homework task. Year 7 are challenged to make book sculptured from a variety of starting points. This is an independent project which is set as a long term homework task.
A selection of slides which directs students through a double exposure tutorial using the online website, Photopea. The slides link closely to the work of Nevess and encourage students to combine their own portrait and architecture photography. As an extension, students can then develop a more mixed media, graphic style of working. There are further tutorials and analysis guides for the artist Januz Miralles.