Rmcee's Shop
Resources for KS3, KS4 science and AS/A2 AQA A Level Chemistry. Hope they help :-)
35Uploads
88k+Views
104k+Downloads
Resources for KS3, KS4 science and AS/A2 AQA A Level Chemistry. Hope they help :-)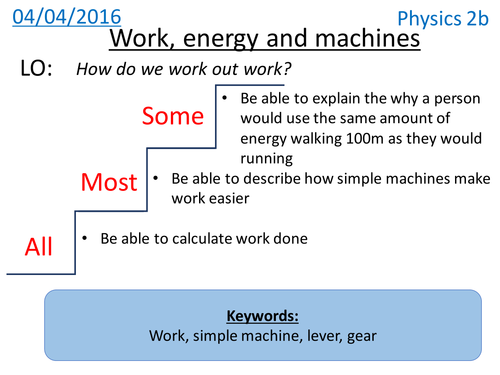 NEW KS3 Work, energy and machines - based on Activate P2.8 This lesson includes resources adapted from other sources Includes: Powerpoint - whole lesson where students calculate work done, there is a whole class AfL activity followed by a period where students answer questions - you may need to provide additional extension questions for your class. There is then a simple discussion of levers and gears and how they make work easier. SS1 - differentiated work done calculations SS2 - simple machines - how do these force multipliers work and how do they obey the law of conservation of energy. Whole unit is available here: https://www.tes.com/teaching-resource/energy-unit-new-ks3-11251540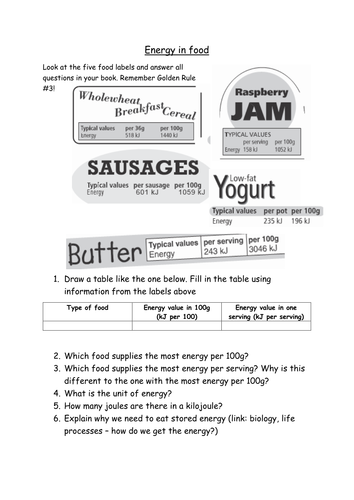 NEW KS3 Food and fuel - based on Activate P2.1 This lesson contains some resources that have been adapted from other sources. Includes: Powerpoint - whole lesson SS1 - Worksheet looking at energy content in different food (adapted) SS2 - Worksheet where students have to draw a bar graph about energy transfers (adapted and differentiated). Whole unit is available here: https://www.tes.com/teaching-resource/energy-unit-new-ks3-11251540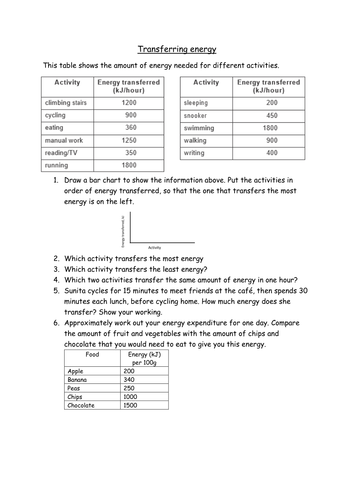 NEW KS3 Whole unit based on the Activate 2 SoL - Energy This unit includes the following lessons: 1. Food and Fuels - (reuploaded) 2. Energy adds up (energy transfers/conservation) 3. Energy and temperature 4. Energy transfer: particles 5. Energy transfer: radiation 6. Energy resources 7. Energy and power (freely available) 8. Work, energy and machines Each lesson is available as an individual lesson in my other resources.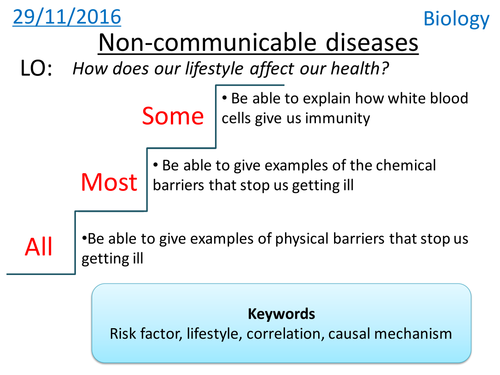 Lesson on Non-Communicable diseases for new AQA GCSE. Lots of data analysis - data sets and questions are from kerboodle.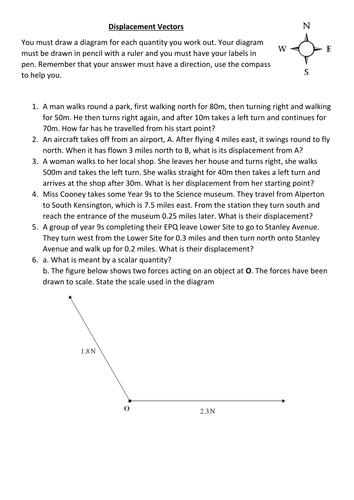 A powerpoint and worksheet for the first lesson in the AQA scheme of learning on forces. I have included resources from olivia_calloway and EUP. The questions are personal to my school, you will need to change them. However, this should be an easy non-edit lesson. Very maths heavy - planned for a high ability group.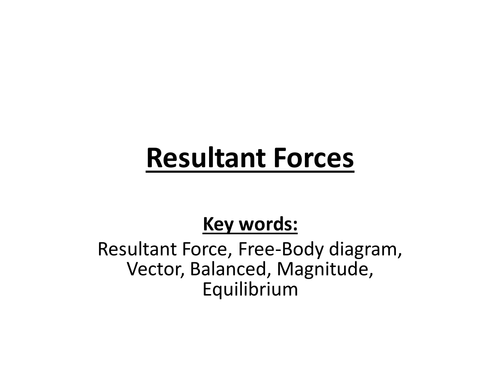 NEW AQA Resultant Forces Lesson 3 This lesson has been planned for my set one year 9 students. It includes some resources from other users of TES. These have been credited and their sheets/slides marked and linked to their resources. It also includes adaptations from legacy resources. Includes: Powerpoint - lesson plan. Students are looking at defining and calculating the resultant force, and ensuring they are using vector diagrams correctly. SS2 (from user PinkHelen) is not attached but is linked, SS3 is from kerboodle so not not attached. SS4 is exam questions and TN4 is the mark scheme.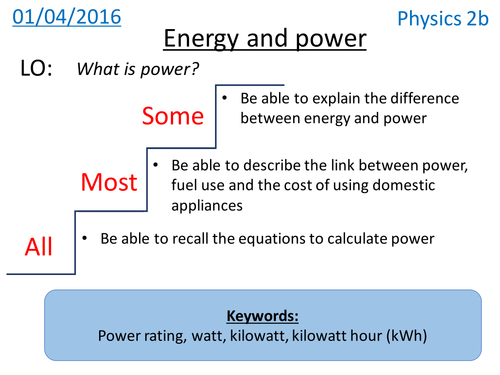 NEW KS3 Energy and power - based on Activate P2.7 This lesson contains some resources that have been adapted from other sources. Includes: Powerpoint - whole lesson - guided calculations and a kerboodle practical.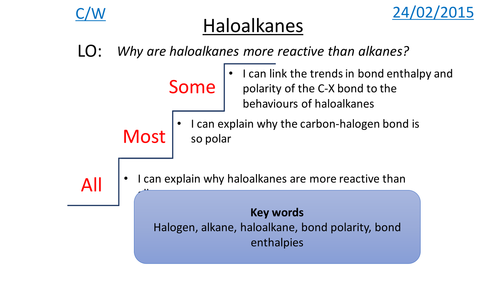 Lesson planned for year twelve studying AQA AS Chemistry. Covers: Naming haloalkanes Explaining the polarity of the C-X bond Literacy activites AfL opportunities and pupil tasks.

NEW KS3 Energy transfer: radiation - based on Activate P2.5 This lesson contains some resources that have been adapted from other sources. Includes: Powerpoint - whole lesson where students work independently to complete a comprehension grid and includes a practical SS1 - Comprehension grid - made for Activate, can easily be adapted for Exploring Science or a print out from bitesize or even filled in watching a video SS2 - Extension task - adapted from something I made during my PGCE - i can't remember the SOL the placement school used. Whole unit is available here: https://www.tes.com/teaching-resource/energy-unit-new-ks3-11251540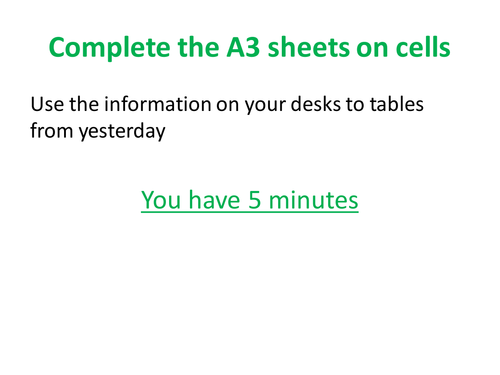 Whole lesson on diffusion and osmosis based on Activate 1. Is a challenging lesson for my set ones and includes GCSE questions. Includes a video link to a kerboodle activate resource and youtube. Both videos or neither could be watched.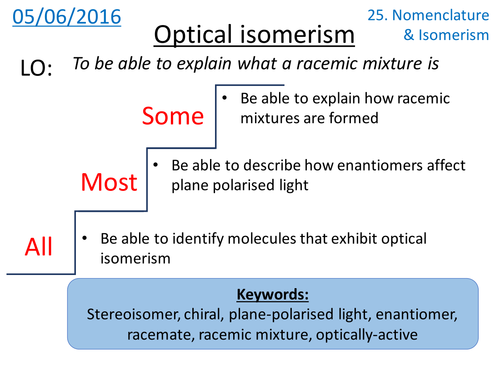 Powerpoint which covers all necessary for AQA A Level Chemistry New Specification. Created using the AQA Scheme of Work for 7405. Students complete the dominoes activity (not included, for sale here: https://www.tes.com/us/teacher-lessons/naming-organic-molecules-dominoes-11291711) and then an AS quick check from Chemsheets.co.uk (not included). Students make different organic compounds using molymods to try and figure out why they are non-superimposable. Students then draw some organic compounds and identify their chiral centres, with a short AfL activity. We go through the process of observing whether light is polarisable - using an old kerboodle resource (old spec kerboodle animation - you will need Chemistry A Level for AQA subscription - not A Level Sciences for AQA - although this is not necessary you can just talk through the process). Students then look at thalidomide and ibuprofen. Lesson has been created from the stereoisomer powerpoint freely available on chemsheets.co.uk.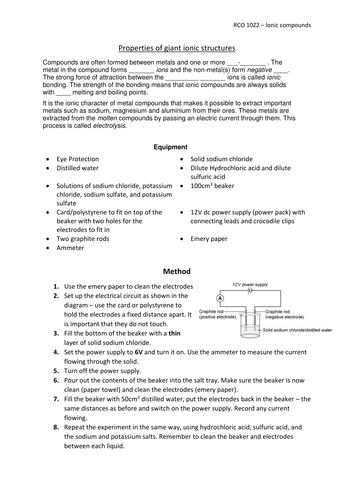 Worksheet based on the kerboodle practical its all about the ions. Students to test the electrical conductivity of dissolved ionic compounds.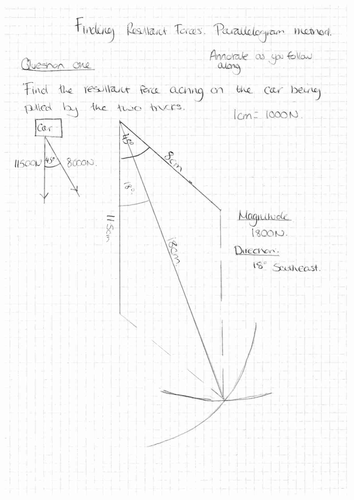 A worksheet I made for my set one students to work out forces using the parallelogram method. Apologies for the handwriting. Students watched me on a visualiser doing Question 1 from scratch - they then annotated the diagram with what I did. Students then completed the second question, that already has the scaled drawing. Student are then asked to complete some questions about scales. Students then complete the kerboodle practical. Apologies for the handwriting!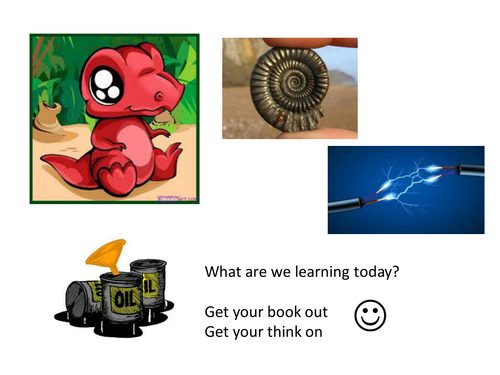 Includes whole unit of lessons and resources linked to Exploring Science 7I - Energy and Sustainable living. Lesson 1 - formation of fossil fuel Lesson 2 - investigation of the energy released from different fuels Lesson 3 - Ways to use less fuel Lesson 4 - Investigation into the energy released from food (must less guidance provided - as practical is so similar) Lesson 5 - Energy resources - energy chains. This was planned for Year 7 but a lot of the resources can be adapted to teach Year 8 depending on how it's being taught. All files are in one powerpoint with sections.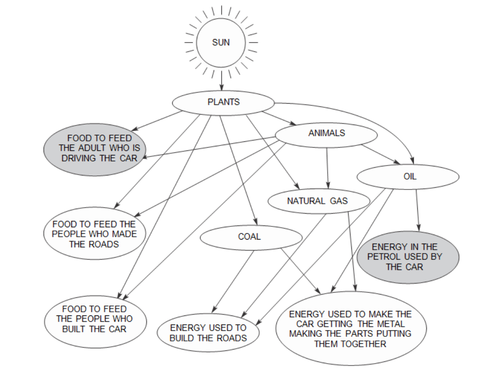 NEW KS3 Energy resources - based on Activate P2.6 This lesson includes this reosurce as a main activity https://www.tes.com/teaching-resource/renewable-energy-resources-fact-sheets-6376633 Includes: Powerpoint - whole lesson where students look at the sun being the basis of energy on earth, the formation of coal, oil and gas - my class have just studied the rock cycle, a video link on generating electiricty (could be used as a dictogloss or alongside the worksheet), students then need to complete a poster activity. SS1 - Starter - from exploring science the source is the sun for students to discuss SS2 - Generating electricity - the energy transformations that happen inside a power station SS3 - not provided - the amazing resource linked above. Whole unit is available here: https://www.tes.com/teaching-resource/energy-unit-new-ks3-11251540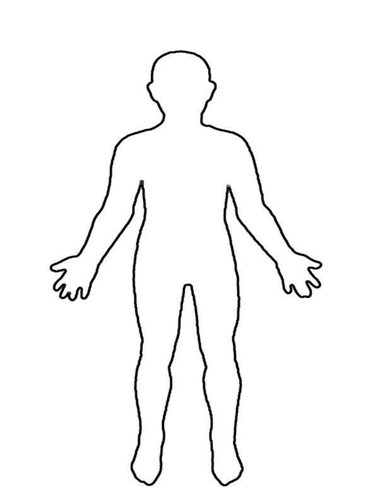 NEW KS3 Energy transfer: particles - based on Activate P2.4 This lesson contains some resources that have been adapted from other sources. Includes: Powerpoint - whole lesson - includes animations (i think from boardworks?) demos necessary! SS1 - body outline for students to add clothing and accessories that help keep them warm (starter & plenary) SS2 - Wetsuit comprehension task - adapted from an old exploring science task. Whole unit is available here: https://www.tes.com/teaching-resource/energy-unit-new-ks3-11251540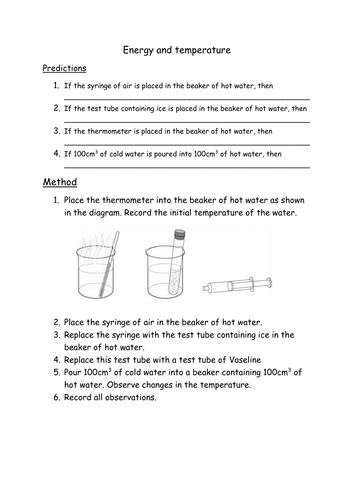 NEW KS3 Energy and temperature - based on Activate P2.3 This lesson contains some resources that have been adapted from other sources. Includes: Powerpoint - whole lesson students look at the difference between heat and temperature. Includes an extended writing task. SS1 - Practical (adapted from Activate, tech notes are linked if you have access - if not it is obvious what is necessary) SS2 - Worksheet shared from a member of my department. Whole unit is available here: https://www.tes.com/teaching-resource/energy-unit-new-ks3-11251540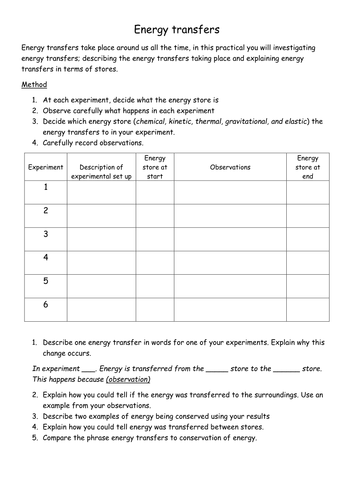 NEW KS3 Energy adds up - based on Activate P2.2 This lesson contains some resources that have been adapted from other sources. Includes: Powerpoint - whole lesson SS1 - Practical sheet. The practical in this can be any sort of energy circus where the energy transfers are obvious. Whole unit is available here: https://www.tes.com/teaching-resource/energy-unit-new-ks3-11251540