Spittingink's Shop
I combine GCSE content with rap for engagement, quotation learning and fun.
18Uploads
2k+Views
319Downloads
I combine GCSE content with rap for engagement, quotation learning and fun.

A revision rap focusing on exam technique for Paper 2 Section of the English Language GCSE exam.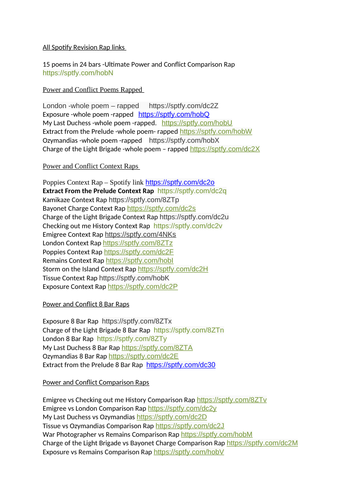 This contains the Spotify links to GCSE revision raps for Power and Conflict, Love and Relationships, Macbeth and a Christmas Carol. Students can boost their quotation learning by listening to these raps and develop their knowledge of the texts. These could be downloadedto the school website revision section.

Dr Jekyll and Mr Hyde Revision Rap Contains the plot and 40 quotations. link - https://youtu.be/zyM4_ckD5iI

A rap of London by William Blake to hep with quotation learning and engagement for GCSE Power and conflict cluster. Rap can also be accessed on Spotify for ease of student revision https://sptfy.com/dc2Z

A rap version of Extract from the Prelude for GCSE Power and Conflict to help with quotation learning, engagement and fun. Students can also listen to the rap through Spotify https://sptfy.com/hobW

Poppies by Jane Weir Context Rap. Help students learn and remember the contextual information for Poppies. This is for the GCSE AQA Power and Conflict Cluster.

A revision rap for A Christmas Carol with key quotations and the plot.

A revision rap to help students learn 22 key quotations for Romeo and Juliet and a copy of the lyrics.

A revision rap video focusing on exam technique for the first four questions of the AQA English Language exam.

This rap features a Macbeth quotations for each letter of the alphabet, making it easier for students to learn quotations.

A rap focusing on key points of comparison between the poem Emigree and the poem London. Includes a focus on language, form, themes and narrative perspective. Students could watch/listen and note down ideas as an introduction to some analytical comparison.

Checking Out Me History and Emigree Comparison Rap Video. This includes three verses, the first focusing on the use of light imagery, the second on the theme of language and identity and the third compares the use of form. Students could note down key ideas to develop into a longer piece of analytical writing.

A song/video to help students memorise 23 physics equations for their GCSE.

A rap containing 50 key quotations for Macbeth to help students memorise the key quotations and engage the group.

Details about the spittingink Power and Conflict Intervention Programme. I am looking for pilot school to trial this interactive online programme for free. See attached PDF for details.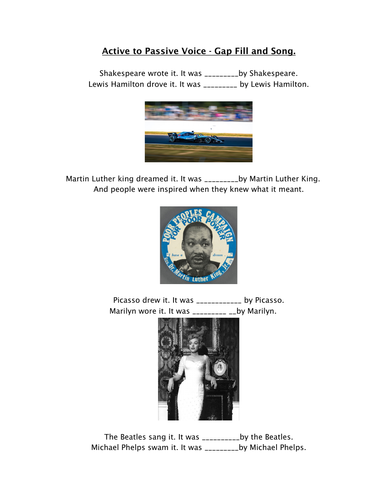 Teach the passive voice with this gap fill and accompanying rap video.

War photographer and Remains Comparison Rap for AQA. Two verses with a range of comparative points. Includes activity for students to explore three key similarities and differences between the two poems. Also includes transcription of the rap. https://youtu.be/-mVrFwUjY60