90Uploads
24k+Views
922Downloads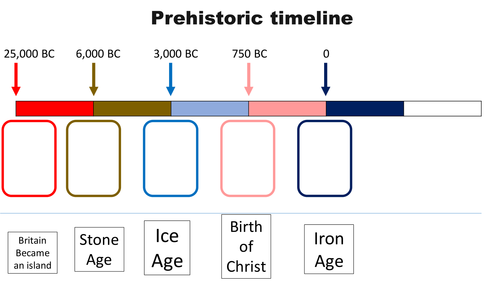 This is a timeline to use with Year three when teaching the topic of the Stone Age / Iron Age. The children can either write the answers into the boxes or cut and stick them into the boxes. The order is; Ice Age, Britain became an island, Stone Age , Iron Age and Birth of Christ. Can easily be edited and will save time!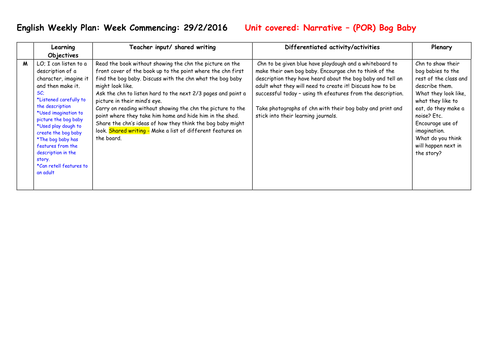 Planning for Year One Monday to Wednesday - Bog Baby. The planning is for the very start of the book. Monday they listen to a description of the Bog Baby from the book and then make it using play dough. Then they write a description and then by Wednesday they predict what happens next in the story. LO and SC included on the plan. Easy to edit and saves loads of time!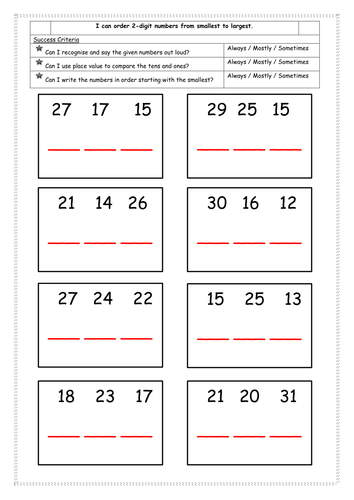 This is a differentiated worksheet where the children have to order 2-digit numbers from smallest to largest. There is also a LA worksheet where the children have to order 1-digit numbers from smallest to largest. This work sheet has the LO AND SUCCESS CRITERIA on them. You can also change the Success criteria or and more, e.g 'Can I form my numbers correctly?' It can easily be edited and printed out to suit the abilities in your class. The worksheet looks great in their books!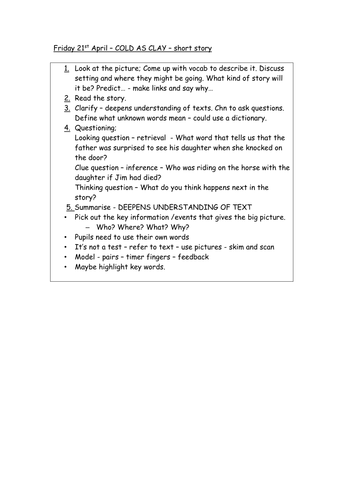 This week we have begun to introduce Reciprocal Reading to Y3. For the first session we did it as a whole class. First I handed out the picture that went with the story. We discussed it and came up with words which described the pictures and then predicted what the story was about. Next we clarified any unknown words / phrases, encouraging the chn to ask questions to each other and then I gave them three question, a looking one (retrieval) and clue (inference) and then a thinking question - their opinion. Finally we summarised the passage using the key points. The children loved this passage - it can be found online - COLD AS CLAY (from a book full of short scary stories) and the photo was of two people on a horse.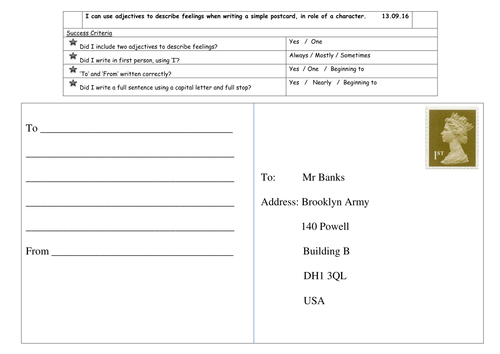 This is a postcard template that I used for Year 3 when writing in role of a character from a class book. The templates are differentiated HA,MA,LA and each have the LO and success criteria on them, ready for the adult to highlight when marking. There are also various other templates at the end of the document which are also differentiated which I though I would attach too! Will save heaps of time!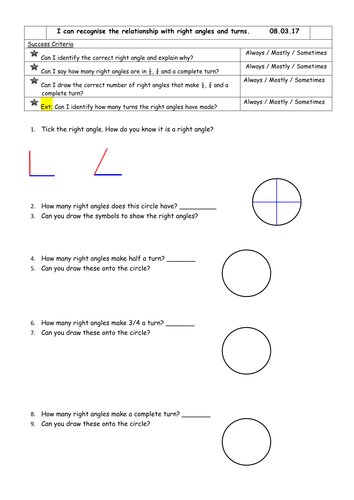 I made this worksheet for a lesson recognising the relationship between right angles and turns. The children have to identify the right angle and then work out how many right angles in turns e.g. 1/2 , 1/4, 3/4 and complete turns and then draw them. There are two worksheets which are differentiated and both have extension activities where they have to work out how many turns the right angle has moved! Th worksheets have the LO and SC to make the structure of the lesson and marking easier.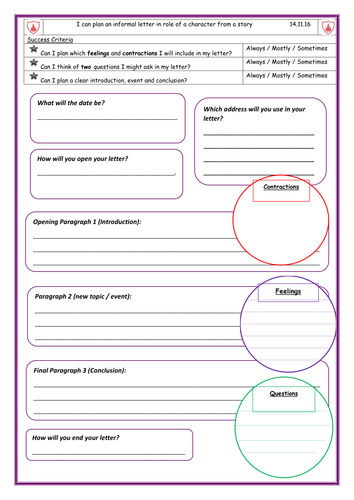 After hours of searching for differentiated worksheets for children in Year 3 to plan an informal letter in role of a character, I ended up making my own. The worksheets are all differentiated for HA, MA, LA and SEN and have differentiated Success Criteria at the top of the worksheet. HA have to include; Feelings, questions, contractions as well as plan all the key features, including the three main paragraphs. MA have to include; Feelings and questions as well as plan all the key features, including the three main paragraphs. LA have to include; Feelings and questions as well as plan all the key features, including the three main paragraphs. For this group the Address was already written. SEN have to include; Feelings as well as plan some the key features, including a main paragraph. I hope this saves you lots of time!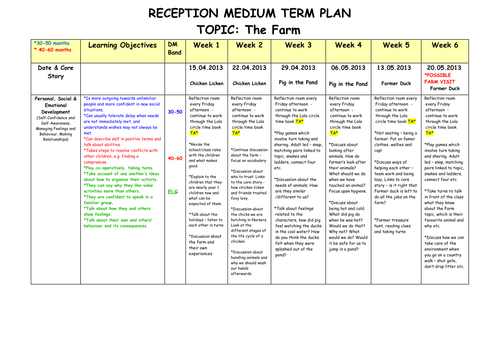 This is a six weeks medium term plan for the topic of The Farm, which covers all the areas of the EYFS. This can be edited and will help many teachers out with what activities / teaching / assessment bands to focus upon this term (this was written in April so the children are achieving ELG's by this point). I wrote it all myself and was specific for my school and the books we were covering were also specifically chosen for this topic. The book covered are; Chicken Liken, Pig in the Pond and Farmer Duck. RE is also on here all planned - the church as a special place I hope this helps!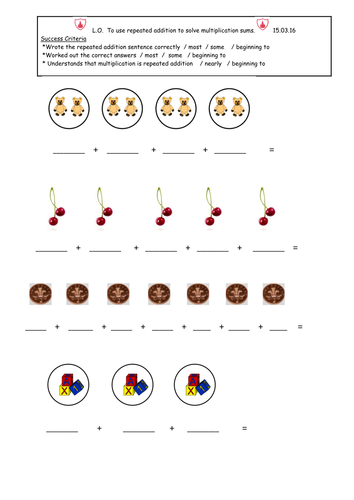 These are differentiated worksheets for year one on repeated addition. They all have the LO and SC on the worksheets. Made in word so can be edited. These worksheets go with the smart notebook slide. Will save loads of time! Enjoy.
This is a slide which introduces the LO; To write a powerful description. It is all based on writing a powerful description on the topic of a forest. There are various photographs of forests that the chn can 'think, pair and share' on what they see, hear, feel etc. The photographs can then be annotated. There is a forest description already written that can be read and discussed with the class, and then finally the Success criteria is shown to discuss with the chn how they will be successful. Will save time I'm sure!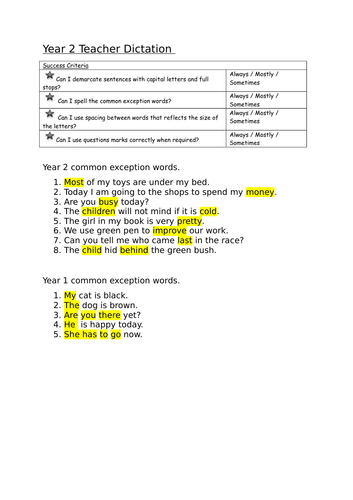 This includes the success criteria for the lesson. There are 8 simple sentences for the Year two children, common exception words are highlighted in yellow. There are 5 simple sentences for the children working at year 1 level - again year 1 common exception words are highlighted in yellow. You could even copy the Success Criteria table onto another sheet and cut out and stick into their books which will make it easier to mark!
This is a smart note book slide that I made for my lesson on introducing right angles to Year 3. I worked through each page and then gave them post-it notes to identify right angles within the classroom. After that they were given a tray of objects on their tables to see if they could identify and recognise any right angles. They completed the worksheet I gave them (which I will also upload) and then in the plenary we used the last page of the slide to extend their thinking and learning - a reasoning question. Will save plenty of time!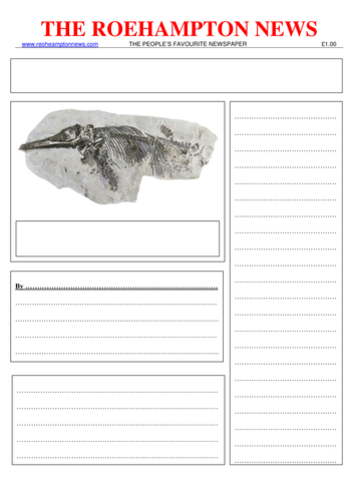 This is a newspaper report ready for the Year three class to complete. We have read the story 'Stone Girl Bone Girl' and we have studied features of newspaper reports, identifying them in real newspapers and other newspaper report texts using highlighters. It is now time for the chn to write their own, based on Mary Anning finding the sea monster fossil. For the more able group I have left this blank - they have to include a catchy heading, by line, strapline, quotes, paragraphs, caption for the photo etc. Then I have differentiated the other groups where some have to think of the strapline / introduction, some have the strapline given, some have the heading given and some have to think of it themselves etc. All worksheets have a photo of the fossil on there. Easy to edit and will save heaps of time! The title of your newspaper will have to be changed as I have done this one to suit our school.
This is a smart notebook slide I have created to work through with my current year 2 class. I have created the questions to look like those given in the SATs. The questions are mostly arithmetic and I will try and find some time to do a reasoning one in due course. (There are over 40 questions) The questions can be edited to suit your requirements which will save a lot of time. I hope this helps in some way :)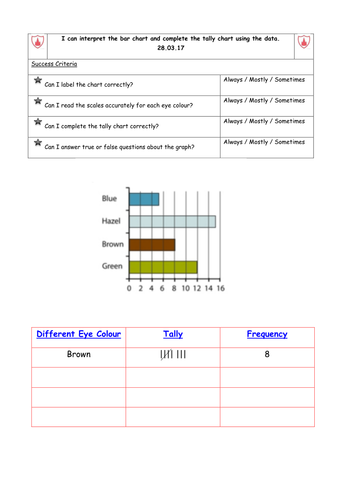 I made this worksheet for Year three children. They have to label the horizontal bar chart, complete the tally chart and then answer some True or False questions and explain how they know, to prove it. The questions are differentiated. LO and SC on the worksheet to help with marking. Will save lots of time.
This is a worksheet where the children have to identify and group animals with or without skeletons, they can either cut and stick pictures or write the names of the animals. The worksheet has been differentiated three times; LA - uses language of 'with skeleton / without skeleton' MA - uses language of vertebrate / invertebrate - with definition beside to remind them HA - just uses title 'vertebrate / invertebrate' - no definition I can't attach the pictures I used due to copyright but there are loads on the internet out there to use. The tables will save time and include the LO and Success Criteria. I hope they help!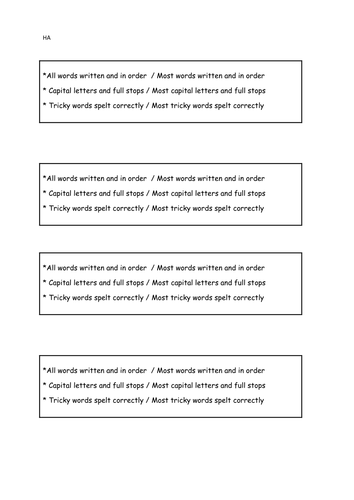 This is the success criteria for dictation. The success criteria is differentiated for HA, MA and LA. Simple print out and cut around the boxes and then stick into books. Use a highlighter to identify which of the success criteria they have achieved. This saves loads and loads of marking time!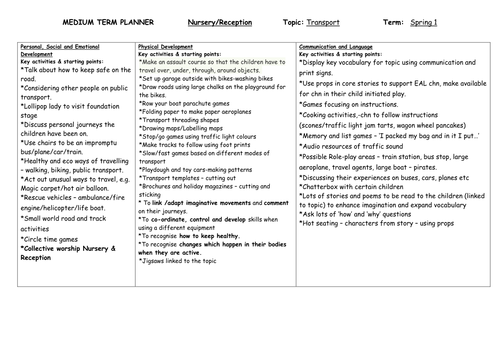 This is a Topic Web that generates lots of different possible activities for Nursery /Reception teachers to deliver / cover on the Topic Transport.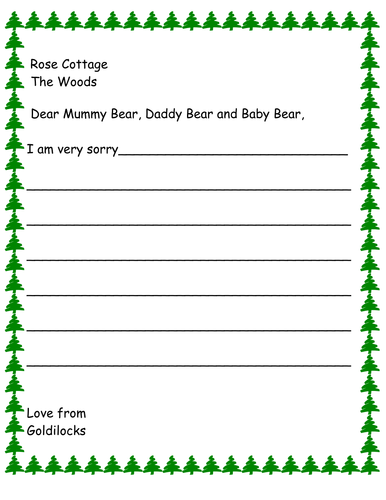 This is a letter template to the three bears from Goldilocks. It is differentiated three times (HA/MA/LA) and includes a key vocabulary list for the chn to use when writing. Will save time and easy to edit!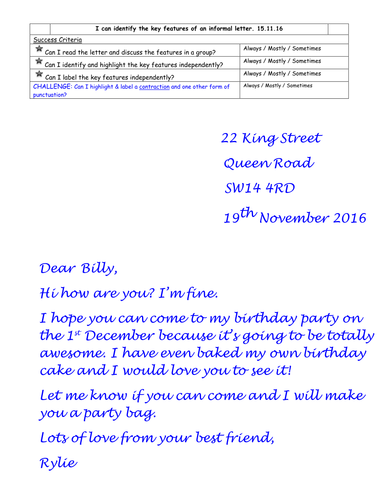 This is a short informal letter for you to get the chn to either independently or in groups (blown up to A3) to highlight and annotate the key features. Can easily be edited :) LO & Success Criteria included at top of worksheet for chn to read and refer to.