154Uploads
273k+Views
134k+Downloads

Updated (November 2018) Lesson exploring the character Mr. Fezziwig and how he acts as the catalyst of change for Scrooge. Lesson includes: -literacy starter (sentence forms) -Fezziwig and Scrooge comparison table -exam style question -student-friendly AQA mark scheme on how to get a Grade 9, 7 or 5 -AO focused worksheet to help students structure an analytical paragraph with sentence starters AQA paper 1, Q4 homework task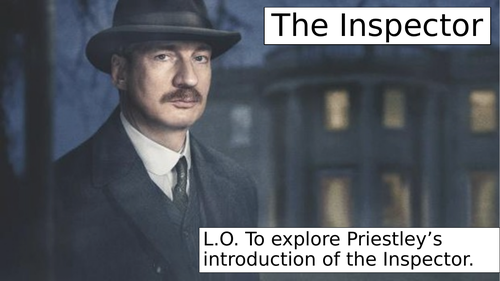 Lesson looking at how Priestley introduces the Inspector to the play. Students will unpick key quotations and analyse the methods Priestley uses to present Inspector Goole. Questions are given to help students 'Explode the Quote' and an exam style question is provided. An AQA Q5 writing task starter has also been included for revision.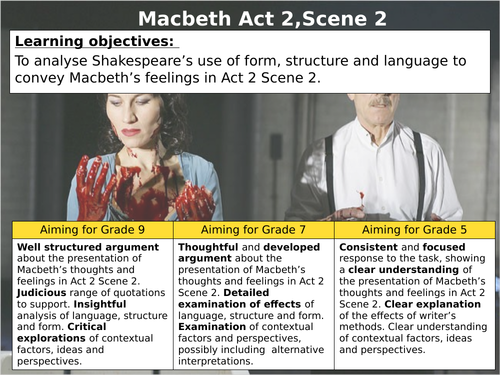 Detailed lesson looking at Act 2.2. Lesson includes: original and modern text with key questions to help students analyse the scene AQA exam style question with sentence stems AQA exam style Q5 writing task with success criteria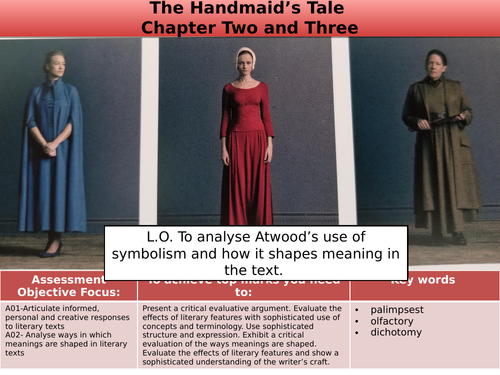 Lesson exploring Chapter 2 and 3 of The Handmaid's Tale. Students will analyse how symbolism is used by Atwood (clothing and flowers) to shape meaning. Questions are given for each chapter and task. Want to try before you buy? You can find a lesson for Chapter 1 of 'The Handmaid's Tale' for FREE on my TES shop.

Detailed lesson looking at the presentation of witches and their role in the play 'Macbeth'. Lesson includes: -spelling test -guided questions to help students analyse the scene -explode the quote language analysis task -homework tasks (my YouTube video focusing on the context and exam question)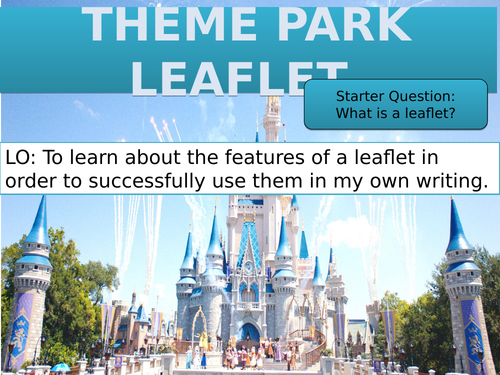 KS3 lesson teaching students the language and presentational features of a leaflet in order to successfully write their own.

Detailed lesson considering the role Mr Birling plays in the death of Eva Smith, making links with the context (working women in Edwardian Britain). Lesson includes: - AQA Question 1 (starter) and Question 4 (extension) revision tasks - 'Explode' the quote activity

FIVE writing activities for AQA English Language Paper 2 Question 5. I've used the thought provoking work of artist Al Margen to act as a visual aid and help students write more creatively. I have also included questions for classroom discussions.

FOUR writing starters for Black History Month. Step by Step instructions to help students write an opening that will hook their reader. I wanted to show black history is not only about our struggles as black people but also about how we shine! I hope to inspire creativity and conversation about black history in your classroom. Love to know how it goes with your students, so please leave a review :o) Some of the pictures courtesy of @beautifully.flawed.one (Instagram).

This can be used as an assembly or a lesson. The PowerPoint covers Caribbean history from colonialism to the present day. Three writing activities are included (analysis of a poem, writing postcards and writing a description suggested by a picture).

Students will look at the main features of a news report. They will then use what they have learnt to create and perform their own. The lesson includes: -literacy tasks: spelling test, sentence structures and discourse markers -5Ws questions -stimulus (article) for their news report -peer assessment worksheet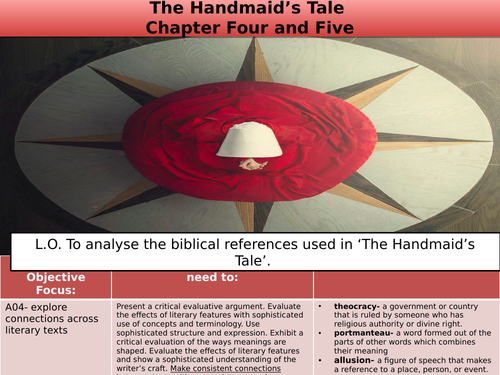 Lesson looking at Atwood's use of religious allusions in The Handmaid's Tale. Lesson includes: -series of questions for Chapter Four and Five -group task involving students researching into the biblical references used in the novel essay question

Lesson focusing on the historical context of the play. Students will explore the American Civil War through debate. They will then analyse how the Emancipation Proclamation affected America and influenced the setting and characters in the play. To end the lesson, students will make connections between America then and now and question how much ideas of race and equality has changed.

TEN writing starters for Paper 1, Question 5. Students are given a series of pictures as a stimulus (some of the photography is taken by me!) and a success criteria for each picture. This will help guide their writing and create more imaginative openings using ambitious writing techniques to impress an examiner! Find some free examples to download on my Tes shop. If you like it, download the collection :o)

Lesson exploring the theme of women and femininity in 'The Handmaid's Tale'. Students will concentrate on second wave feminism, making connections with the novel. Lesson includes: Range of statements for debate/Socratic seminar Chapter 7 key questions links to articles about second wave feminism and questions to aid analysis/discussion quote analysis task Essay question to test students' evaluation skills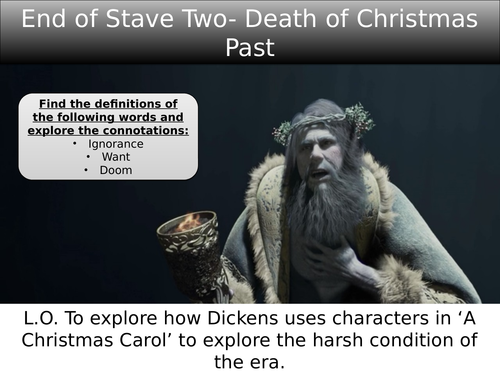 Detailed lesson looking at the ending of Stave 3. Students will focus on the social and historical context (child poverty and workhouses) and how this influences the themes/ideas explored in the novel. Lesson includes: - literacy starter (using dialogue correctly) -video and key questions -language analysis tasks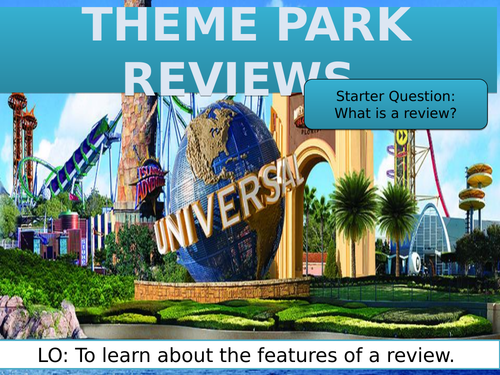 Lesson teaching students how to write a review. Students will look at features of a review and examples in order to help them write their own successfully.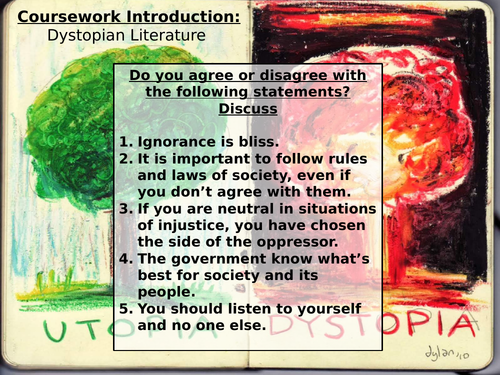 An introduction lesson into dystopian literature. Students will look at the similarities, differences and features of utopian and dystopian literature. The lesson includes discussion based activities to develop students' critical thinking and analysis of the short story, 'The Ones Who Walked Away from Omelas'.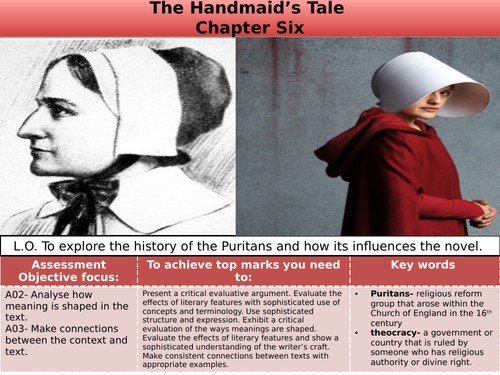 Lesson for Chapter Six of The Handmaid's Tale. Students will focus on A03, researching into Puritan society and making links with the novel. An exam style question is also included as homework or an extension.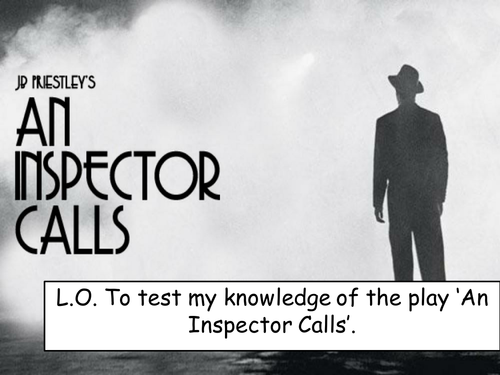 13 detailed lesson PowerPoints for revision of 'An Inspector Calls'. Each lesson focuses on a different character or theme. A variation of tasks are included: -visual and auditory task - independent written tasks - group tasks -speaking and listening task I have also tried using examples that are relatable to them, for example getting students to make comparisons between the relationship of Sheila and Gerald and Beyonce and Jay-Z. Scheme also includes: - focus on exam skills -break down on how to approach the question - lesson on assessment objectives - weekly homework timetable, which includes exam style questions for a seven week term - midweek homework tasks for revision of the 'Love and Relationships' poetry cluster.