Ysbail's Shop
Primary resources - planning, assessment and a range of activities
48Uploads
9k+Views
3k+Downloads
Primary resources - planning, assessment and a range of activities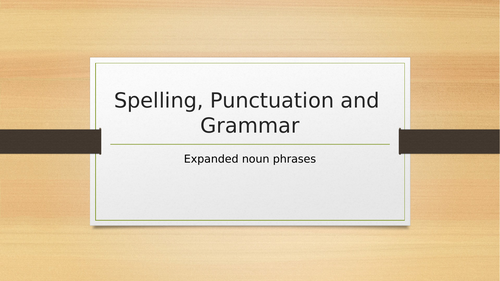 Lesson presentation and worksheets to support teaching of simple and expanded noun phrases suitable for year 3 curriculum.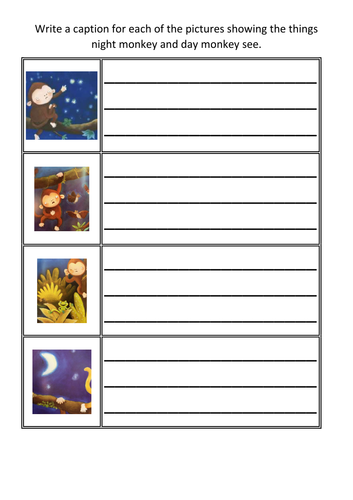 Speech bubbles, matching rhyming words and caption writing activities to support the book Night Monkey Day Monkey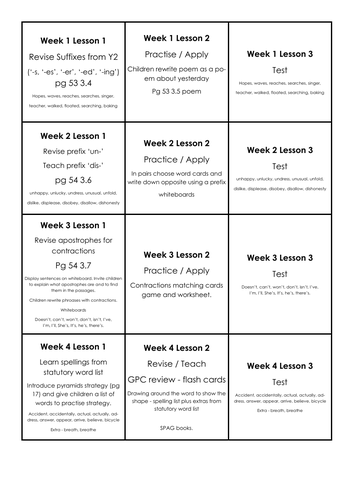 Year 3 Autumn 1 planning and spelling lists to support the No Nonsense Spelling programme. I found these really useful - hope you do too!
Phase 3 phonics activity sheets including find and colour the phoneme practise writing the letter add the sound buttons fill in the missing letters read the sentence write a sentence Sentences could be cut up laminated and used for sorting. I also laminate the writing sentence part for children to use whiteboard pens with. (can be enlarged)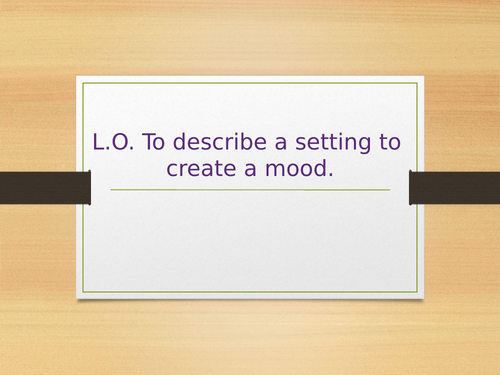 Two presentations support teaching of writing settings and accompanying worksheets. Used alongside teaching of Stig Of The Dump but could be adapted.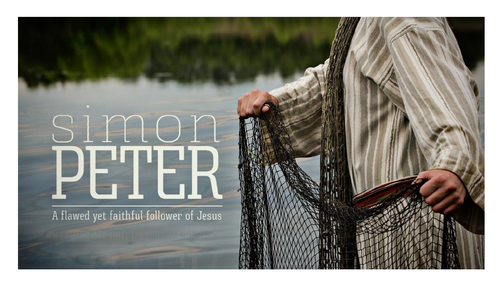 To be used in conjunction with the 'Simon Peter - What would the fisherman think' assemby from Bible Based Assemblies from Scripture Union: https://www.biblebasedassemblies.com/simon-peter-what-did-the-fisherman-think/ I made a Powerpoint and some prompt cards for use with the assembly.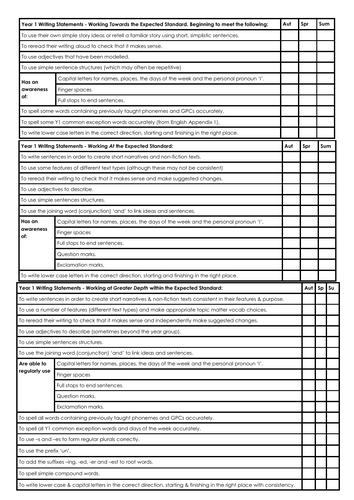 Year 1 statments checklist on one page I stick on inside of English / Maths books to tick off / highlight each term while marking so I can easily see gaps.
A powerpoint with some quick fire subitising slides with 3 or not 3 slides. Can be used together or separately. I have used these alongside the NCETM mastering number activities.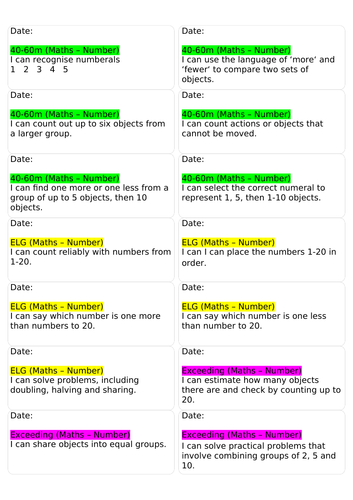 Avery label template of EYFS Maths Number statements I print these labels and use alongside a date stamp and next steps comments in learning journeys / folders / books.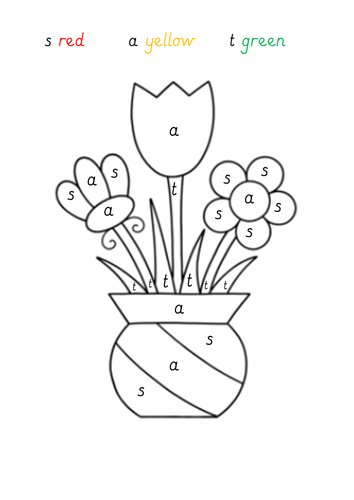 Colour code colouring sheets for s a t p i n phonemes Recognition / colours / fine motor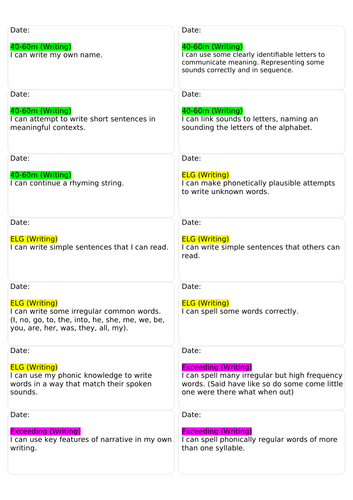 Avery label template with EYFS Reading and Writing statement 40-60, ELG and Exceeding statements. I use alongside a date stamp and next steps statements to stick into learning journeys / folders / books during the year.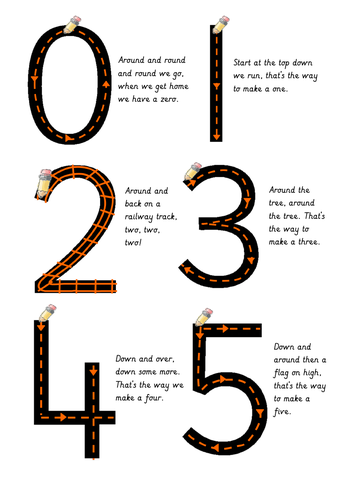 Number formation posters with rhymes. Arrows showing direction to start writing in. One number per page posters and a page with all numbers together. Could be laminated and used for number formation, ordering numbers (indoor or outdoor on a washing line) or used for posters and prompts on a writing table. I use mine outdoor for gross motor formation with chalks on the playground and indoor with sand writing etc…
Phase 2 phonics activities including blend and read powerpoints, peg cards, colour by sound sheets and activity sheets.
Sort the parts of a pumpkin - laminate the sheets and let the children disect a pumpkin. Can they sort the different parts? Measure pumpkins - provide unifix or multilink cubes for children to measure pumpkins and write down how many cubes they are tall / wide. Colour your pumpkin sheet. Trace and write sheet.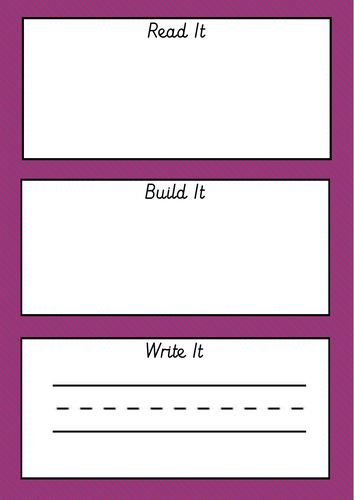 EYFS continuous provision or phonics support resource. Best used when laminated. Place word or sound cards on the 'Read It' section. Use plastic / magnetic letters to build the word in the 'Build It' section. Children use whiteboard pens to practise writing the word in the 'Write It' section.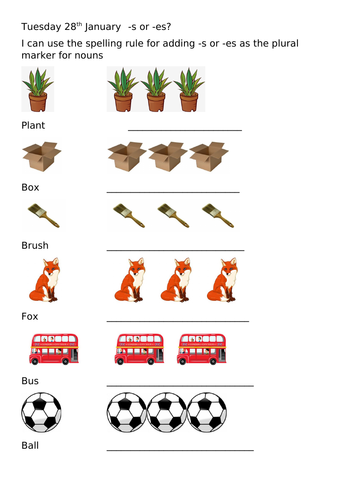 Phase 6 / year 1-2 Use the spelling rule for adding -s or -es as the plural marker for nouns. Add the correct plural ending for the pictures given.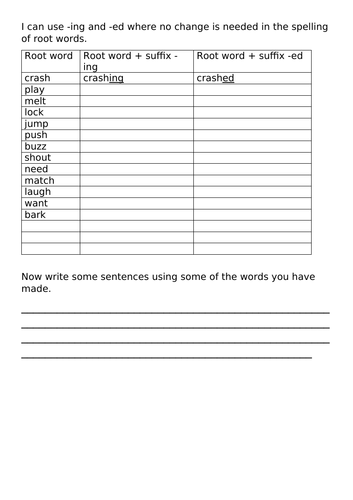 To use the suffixes -ing or -ed where no change is needed in the spelling of the root word. Add the suffix -ing in one column and -ed in the next. Apply words created to sentences.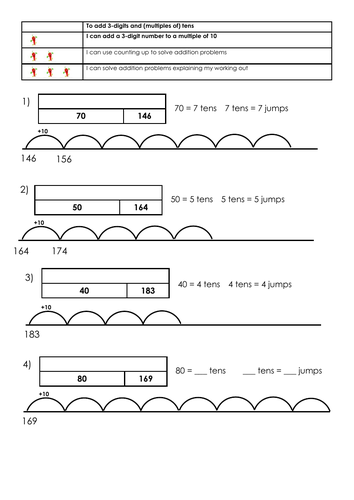 Year 3 - Adding 3 digits and (multiples of ) tens differentiated worksheets. Can be used to support White Rose Planning.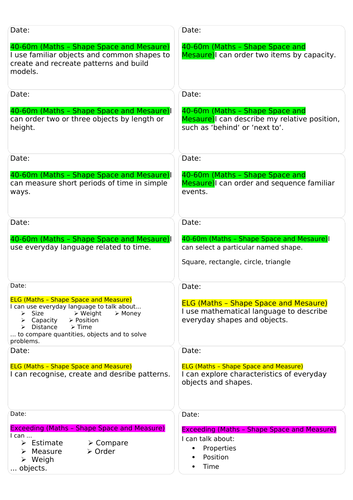 Avery label template of EYFS Maths Shape Space and Measure statements I print these labels and use alongside a date stamp and next steps comments in learning journeys / folders / books.