Preschool Amharic resources
Keeping your class engaged with fun and unique teaching resources is vital in helping them reach their potential. With Tes Resources you'll never be short of teaching ideas. We have a range of tried and tested materials created by teachers for teachers, from kindergarten through to high school.

Breathe new life into your lesson plans with our primary and secondary school classroom resources. Whether you're looking for fun maths worksheets or brand new guided reading activities, we have thousands of free and premium resources for you to download. From preschool to primary you'll find phonics worksheets and classroom games. From Year 11 through to senior secondary we have everything from Japanese lessons to algebra activities, as well as revision guides for tests and exams.
Read more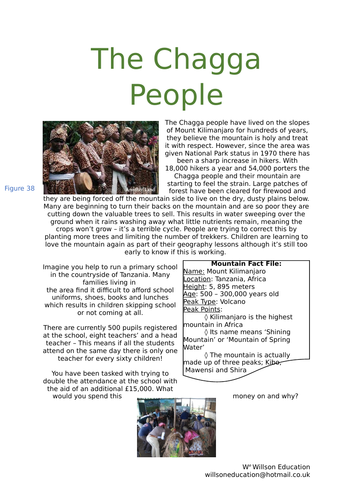 The Chagga people have lived on the slopes of Mount Kilimanjaro for hundreds of years, they believe the mountain is holy and treat it with respect. However, since the area was given National Park status in 1970 there has been a sharp increase in hikers. These worksheets have the students imagining they run a local primary school, however the families struggle to afford the uniforms, shoes, books and lunches which result in many children not attending. Their task is to decide how best to use aid money to help try double attendance to the school.