Elementary school German resources: racism
Keeping your class engaged with fun and unique teaching resources is vital in helping them reach their potential. On Tes Resources we have a range of tried and tested materials created by teachers for teachers, from pre-K through to high school.

Breathe new life into your lesson plans with our elementary, middle school and high school classroom resources. Whether you're looking for fun math worksheets or brand new guided reading activities, we have thousands of free and premium resources for you to download. From kindergarten to elementary you'll find K-5 resources, including phonics worksheets and numeracy games. From middle school through to high school we have everything from Spanish lessons to algebra activities, as well as Common Core-aligned lessons and revision guides for tests.
Read more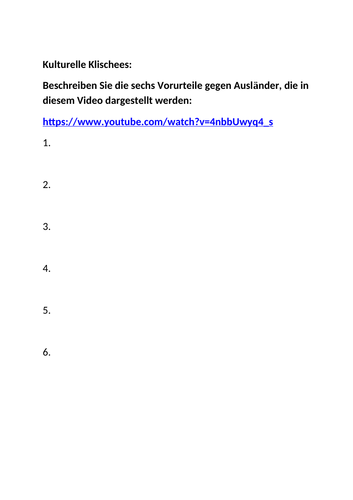 This is a one-page video comprehension worksheet on the topic of stereotypes.
A2 Speaking Topics on the refugee crisis mainly in Germany, problems with integration, asylum seekers and racism and the effects on the economy.
This resource has been translated from the English version with the author's (godwin86) position so that German teachers can foster moral debates in their classrooms. This is a great way to contribute towards SMSC education in your MFL classroom. The original English version can be found here: https://www.tes.com/teaching-resource/-p4c-the-moral-dilemma-generator-200-slide-ppt-with-randomiser-philosophy-for-kids-11381522 Uses: -P4C (Philosophy for kids) -Form time activities -German lessons (KS4 & 5) -Debating societies -Making best use of spare time at the end of lessons Discussions follow one of four formats, each asking students to move from one side of the room or the other to make their position clear: teachers should then use questioning to foster a debate between students, encouraging them to present reasons for their choice and defend their position. The formats are: -"Which is more moral?" (students chose between two options) -"Agree or disagree?" (where students respond to a presented statement about morality of a moral issue) -"Who do you save?" (where students need to save one of two people/options, and justify the morality of their decision) -"Moral or immoral?" (where students cast their judgement on a given action, event or person. This resource is great value at £4.99 and cannot be found elsewhere: -It clearly contributes to the Moral aspect of your school's SMSC provision -It allows for countless hours of discussion and debate to be structured in a focussed and engaging manner. -It would take days to reproduce yourself. -It can save vast amounts of staff time in preparing cover lessons -It is the perfect way to make the most of any time a teacher might have left at the end of a lesson. -It deals with cross curricular issues Please note: this resource deals with controversial issues, debates and questions that may be deemed unsuitable for younger children. It is designed for secondary school students, but can be easily adapted to younger years with appropriate amendments by their teacher.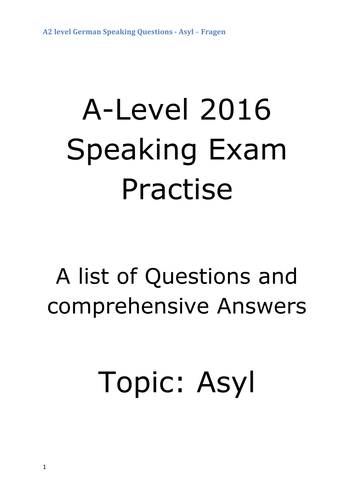 Edexcel and AQA A-level questions and answers for your 2016 SPEAKING exam practise. The topic covered: Asyl. Links to resources are provided. You can choose from a wide range of answers and/or formulate your own. All information is up-to-date and relates to the current situation in 2015-2016. Further questions and answers topics: Rassissmus und Integration, Gastarbeiter, Ausländer, Aussiedler are published separately.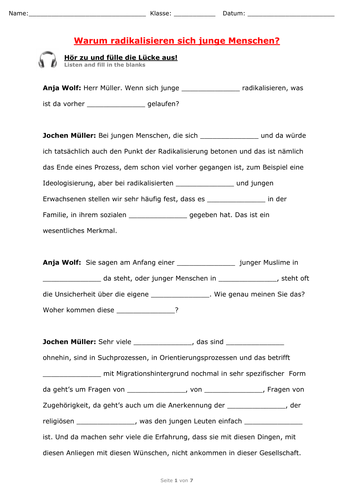 Gapfill Listening exercise from an interview with Jochen Müller (ufuq in Berlin). Audio file can be found at: http://www.br.de/radio/bayern1/sendungen/mittags-in-muenchen/jochen-mueller-zur-radikalisierung-jugendlicher-100.html Transcript of interview is also included. Duration of interview: 8mins 18secs NB: The audio file has since been removed from the BR website. I have uploaded a recording of the file. Apologies for the interference towards the end of the file.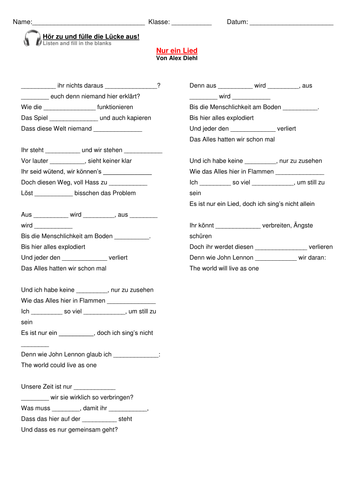 After the attacks in Paris on the 13th November, a German singer/songwriter has gone viral with his peace song written in the aftermath of the attacks. The listening activities link to youtube, there is a gapfill to complete for both an interview with the singer and for his song. The video for the song shows the lyrics, so you might not want to have the video visible for the gap fill. This is not a complete lesson, just something you could use with your class.