Back-to-school warm-up ideas
Get your PE classes off on the right foot with these warm-up cards
Warming up is a vital part of any PE lesson so that your class are fully prepared for the exercise ahead of them.
We've gathered a selection of general and sport-specific warm-ups to ensure that the start of each lesson is engaging as well as being effective.
General warm-ups
Give your KS3 students these idea cards to spark inspiration and help them lead their own warm-ups as individuals or in small groups. Alternatively, encourage more structure with these warm-ups that use three-part guidance cards, based on needing a pulse raiser, a mobilisation activity and a stretch.
For a comprehensive set of warm-up ideas, check out this detailed list packed full of ways to keep learners on their toes.  And for some further inspiration, this pack of fitness activities with get learner's heart rates rising in no time.
 
Sport-specific warm-ups
Why not refer to these basketball exercises, that will help to limber pupils up as they practice their dribbling, shooting and passing skills?
Ensure that students avoid injury when performing dance and gymnastics routines by taking the time to focus on these stretches properly. Finally ease pupils into their swimming lessons by diving into these activities, jam-packed with of out of the pool stretches and swimming strokes.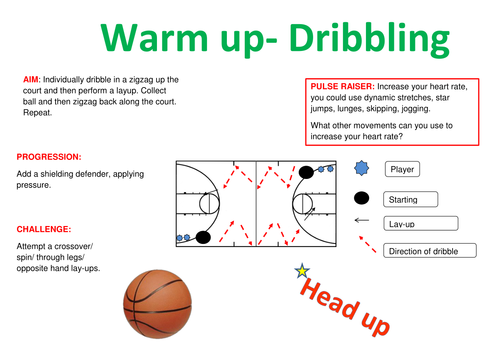 I have used these in Sport Ed. unit of work for Basketball. I have used with Year 7 and 8.
By
drewdaly9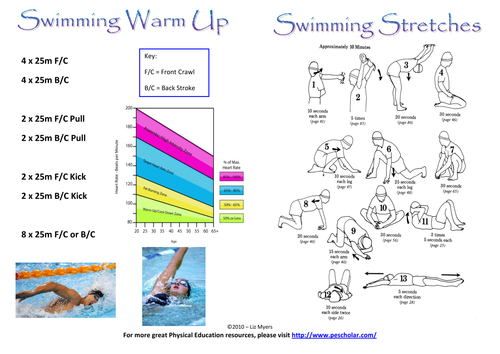 'Swimming Warm-up1' is a 20-min warm-up and stretching card that could be used in lessons or extracurricular clubs. 'Medley Swimming Pyramid2' contains 3 medleys for 3 different abilities and normally takes around 30-mins to complete. It could be used within a lesson but is more of an extracurricular training resource. 'Swimming-Ladder1' contains two warm up ladders; front crawl & medley. Both take around 20-30mins to complete depending on ability level and could be used within lessons or extracurricular clubs. For more PE resources, please Google 'PE Scholar'. Thankyou, Liz Myers.
By
lizzymyers