AFL: Assessment for learning
Incorporate AFL into your lessons quickly and easily using this adaptable collection of resources
Assessment for learning has been the buzz phrase of the teaching world for the past decade. Its core aim, to check student understanding, frequently improves the pace of lessons and the quantity and quality of teaching and learning. Therefore why not consider some of these fantastic adapatable resources to enhance your lessons and check just how well your students are doing!
Whole school 
From plenary generators, questioning ideas and teacher toolkits stuffed with a variety of assessment activity ideas - there's plenty to choose from with the selection below.
Templates
Choose from this selection of customisable templates from stickers to exit tickets - there's something here for everyone!
CPD
Explore the concepts and reasoning behind AFL further with your colleages and consider how to best incorproate strategies into your classrooms using these CPD resources aimed at teachers.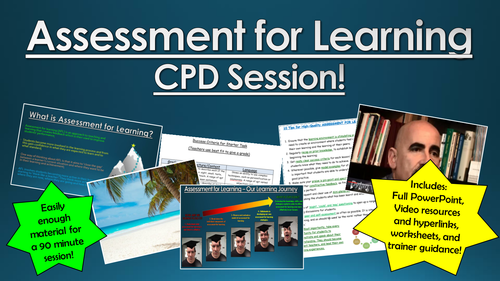 This CPD session offers an engaging and original approach to introducing or revisiting assessment for learning. Grounded in educational research, this CPD session is interactive, well-structured, and has been successfully tried and tested. The aim of the CPD session is to develop the knowledge, skills, and strategies needed in order to utilise assessment for learning even more effectively in lessons, and it achieves this by embarking upon the following learning journey:

1. Understand what assessment for learning is and why it is effective.
2. Break down the individual components of assessment for learning.
3. Observe and evaluate a model of assessment for learning
4. Collaborate in developing your own assessment for learning strategies.

Included in this pack are: Full PowerPoint presentation, videos for analysis, hyperlinks to Youtube videos, resources for CPD activities, instructions and guidance for trainers/ presenters.

All images and videos are licensed for commercial use, and are cited on the final slide.
By
TandLGuru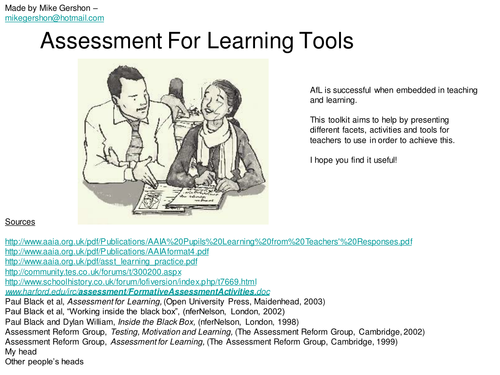 A range of different activities to complete to check understanding
By
tanzina87