Whole-school Mandarin resources: nouns and pronouns
Keeping your class engaged with fun and unique teaching resources is vital in helping them reach their potential. On Tes Resources we have a range of tried and tested materials created by teachers for teachers, from pre-K through to high school.

Breathe new life into your lesson plans with our elementary, middle school and high school classroom resources. Whether you're looking for fun math worksheets or brand new guided reading activities, we have thousands of free and premium resources for you to download. From kindergarten to elementary you'll find K-5 resources, including phonics worksheets and numeracy games. From middle school through to high school we have everything from Spanish lessons to algebra activities, as well as Common Core-aligned lessons and revision guides for tests.
Read more
A powerpoint presentation on singular and plural pronouns in Chinese, with supporting worksheets (in PDF). Suitable for beginners.
Are you learning or teaching Mandarin? I have developed different worksheets and 57 pictures of different settings you can talk about in class. I based my work on an ESL pack I developed and thought it could be equally effectively used for different languages. The worksheets are in English and your students need to find the Mandarin equivalents. There is an end of lesson fun game where the students show their knowledge in a game of Bingo.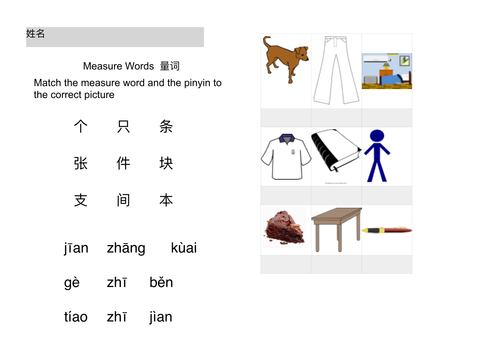 Mandarin, GCSE level, a simple starter worksheet matching 9 different measure words to their correct category of objects.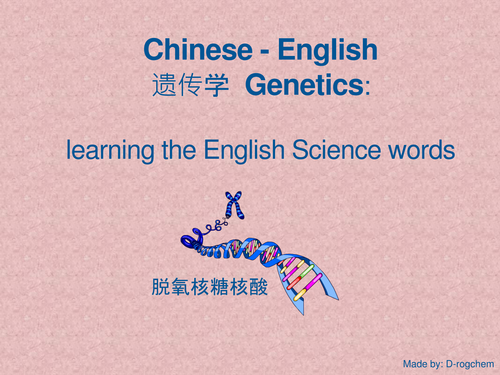 This resource consists of 2 worksheets consisting of lists of key genetics words in which the student has to add the correct term -in English or Chinese. A worksheet where the student chooses the correct word to complete the sentence (5 min starter) There is also a 2-page worksheet (and answers) that asks the students to fill out some punnet squares and carry out simple calculations (these are written in English).