338Uploads
65k+Views
86k+Downloads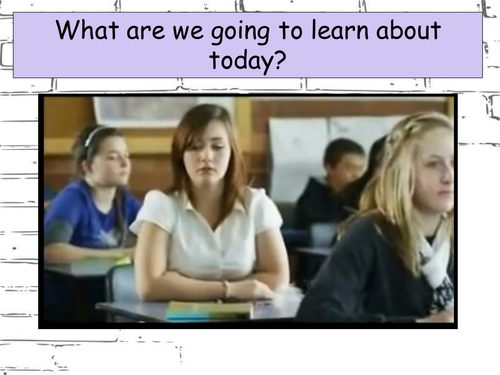 A lesson aimed at low KS4 (Y9) to teach about the dangers and consequences of sexting- including snapchat Leave a review, email misskwaddington@outlook.com and you can choose any single lesson to be emailed back to you for free!

14 lessons to teach the new specification content, tailored towards AQA but suitable for other exam boards. Lesson 15 would be an assessment, as this is a past paper from AQA I cannot upload but it can be found for free on their website. If you download please leave a review. Knowledge Organiser is now included with the bundle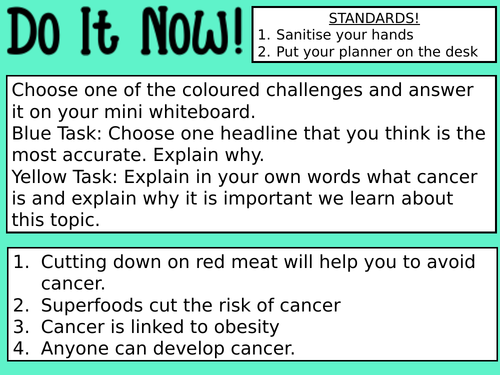 100 minute lesson that looks at raising awareness about Cancer, having a health lifestyle and how students can check their bodies to keep themselves safe. Video clips and content is aimed at Year 9-10 content. No printing required so ideal for online/distance learning, cover or non-specialist lessons.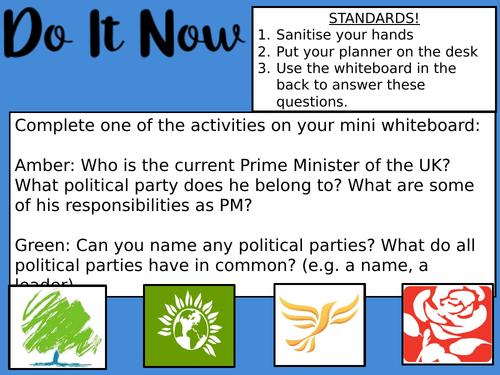 A KS3 lesson (aimed at Year 7) for students to have a basic understanding of the political spectrum and the 3 main political parties.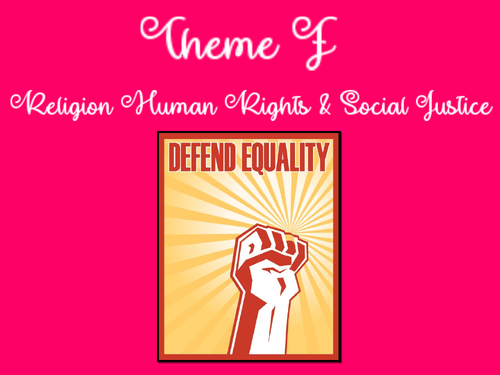 Planned to be delivered to students studying the AQA Specification A, but easily adapted for other exam boards. I have planned all content to be delivered during an intensive Easter School session, in which the aim is for students to understand the main content of the exam. There is a revision checklist, and some exam answer structure support included at the end of the powerpoint. Also suitable for a school VLE.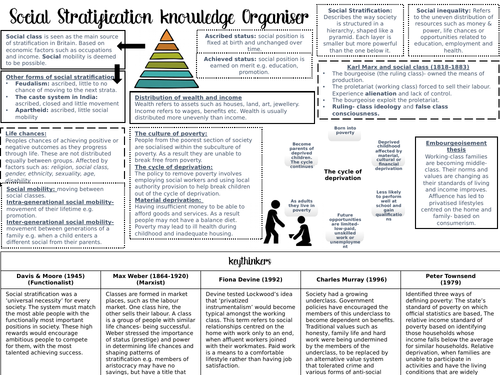 THANK YOU! I have had so many emails about these resources, and they are my most successful download! Please continue to review :D A complete bundle of knowledge organisers for the AQA New Specification (9-1) GCSE exam. These can be tweaked to suit other exam boards. Each knowledge organiser includes the Key Thinkers and a summary of key sociological theorists. Bundle includes: -Research Methods -Education -Family -Crime & Deviance -Social Stratification If you download, please leave a review.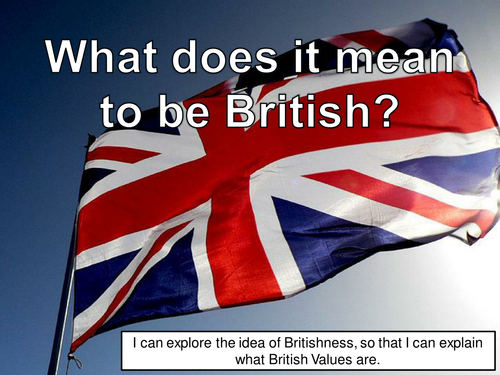 Tutor Time activity between 15 and 30 minutes. Looks at what is British, followed by Individual Liberty. Final slide applies the British Value to school life, so easily adaptable.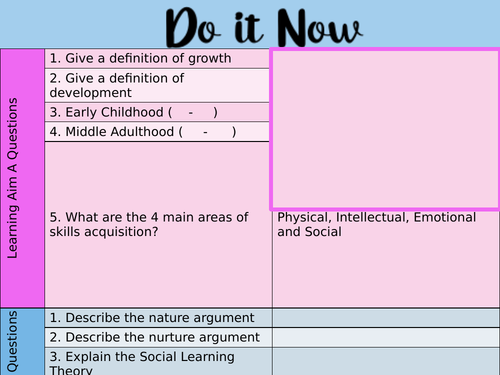 BTEC National Level 3 Unit 1 Exam This lesson covers Gesell's maturation theory, Bandura's Social Learning Theory and the Stress-diathesis model.

A Complete unit of lessons and 2 assessments aimed at the AQA Specification for the GCSE unit Families. Lessons cover all key thinkers, have exam practice, model answers and differentiated tasks. This bundle also includes the knowledge organiser.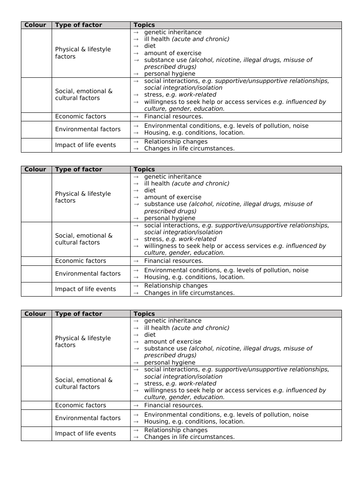 BTEC Tech Award: Level 2: Health and Social Care: Component 3. A bundle of lessons to teach Component 3 to Level 2. Lessons include differentiation, challenge, WAGOLLS, retrieval and exam practice embedded throughout. There is a factors booklet included for the first section. This is great for distance learning, or to set as an ongoing homework activity. It also includes a copy of the mock paper and mark scheme used in the December mock period. Please leave a review

Everything you need to teach and deliver BTEC Tech Award: Component 1: Learning Aim A. This bundle includes 100 minute lessons, a homework booklet, knowledge organiser and coursework support booklet. Hours of planning has gone into this, so please leave a review.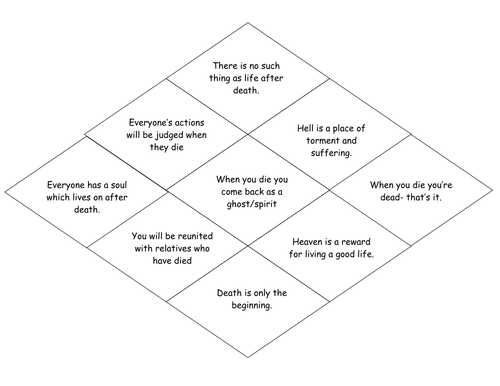 A bundle of KS3 resources for a unit called Life After Death. The unit focuses on Christianity and uses Hinduism as a comparison. The bundle of resources has some excellent activities and resource sheets, however, language used in the lesson outcomes and differentiated activities refers to "levels"- hence the low price for the bundle (this will take a couple of minutes to tweak to your new assessment criteria). Leave a review, email misskwaddington@outlook.com and you can choose any single lesson to be emailed back to you for free!

A lesson aimed at an introductory topic for the GCSE. But also suitable for a refresher lesson at the end of the GCSE/Revision before the exams. If you leave a review, please email misskwaddington@outlook.co.uk and I will send you a free single lesson of your choice.

Level 1/2 Technical Award in Child Development and Care in the Early Years New for teaching in September 2022 (NCFE/CACHE Childcare) Included in this bundle is everything needed to deliver Content Area 1: Child Development of the new specification -1.1-1.1.4 6x lessons 3x Homework tasks 1x mini assessment 1x scheme of work Please review if you purchase.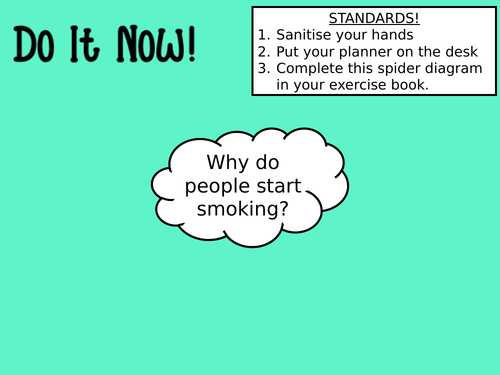 2 PSHE/Life Skills lessons. Lesson 1 looks at the facts and dangers associated with smoking. Lssson 2 looks at the facts and dangers associated with vaping. No printing required so ideal for online/distance learning, cover or non-specialist lessons.

BTEC TECH AWARD 1/2 COMPONENT 1: LEARNING AIM A Included in each lesson is the homework book and knowledge Organiser. Lessons are planned for 100 minutes. Lesson 12: Cultural and Social Factors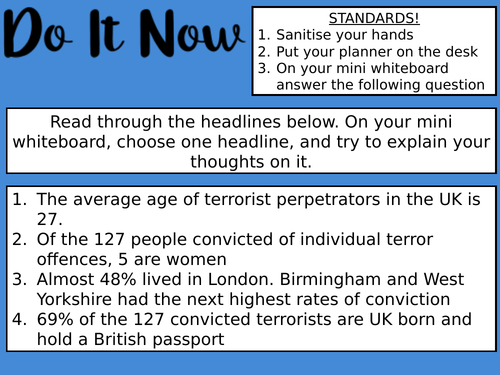 This KS4 lesson (aimed at Y10) looks at how radicalisation happens. It is meant to last 100 minutes, but the final documentary is 30 minutes long and due to the nature of the topic students have a lot of questions/debate so it took me longer than a double lesson to teach this. The rest of the lessons in this unit can be found here: https://www.tes.com/teaching-resource/ks4-unit-extremism-12487992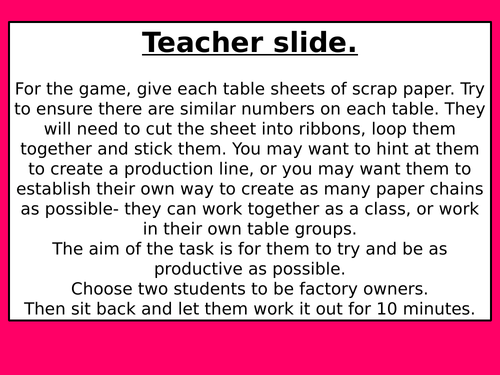 2 lessons from my Introduction to sociology unit. These two lessons look at Marxism- including communism, capitalism, proletariat, bourgoise and revolution. This is a lesson suitable for either an introduction in sociology or as a refresher/revision for students before their GCSE. Suitable for non-specialists or a cover lesson. Leave feedback, email misskwaddington@outlook.com and recieve any single lesson of your choice for free.

A new unit of work using the PSHE association mapping structure for the new 2020 Relationship, Sex and Health Education area. This unit is aimed at Year 7. But suitable for any KS3 group. Lesson 8 looks at consent using the NSPCC PANTS video and template. This is slightly updated from my previous resource. Please leave a review if you download- it is free!

A new unit of work using the PSHE association mapping structure for the new 2020 Relationship, Sex and Health Education area. This unit is aimed at Year 7. But suitable for any KS3 group. Lesson 4 is looking at the media and body image. We look at how the ideal body type has evolved since the start of time, considering why these ideals change and why do we subscribe to them. The lesson then concentrates on the October 2018 cover of Cosmopolitan magazine in which they put Tess Holliday on the front (5foot 3 and 300lbs), there is a video from Good Morning Britain (Piers Morgan arguing with Cosmo editor) and students then complete and extended piece of writing on this topic area. Please leave feedback