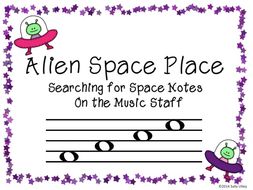 Alien Space Place - Identify Space Notes on Music Staff
This zip folder contains both a PowerPoint digital flash card learning/review game and one printable student worksheet to help students discriminate between line and space notes on the staff. This game and worksheet does not ask students to identify pitch names, but rather they must simply identify the space notes.

Display the digital flash cards with your projector and play a whole group learning or review game. Students use hand signals to indicate whether the note on display is a line or space note. Play Around the World, Lightening Round, or Team Play as a review or assessment game. Extend the on-screen lesson and review with a worksheet that can be used as practice or assessment. One Alien worksheet is included.
Read more