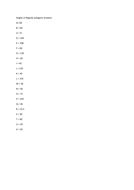 Angles Rules in Regular Polygons (Exterior, Interior, Central, parallel lines)
I created this resource to my middle set Year 7 as an introduction to exterior, interior, central and parallel line rules. Starts quite simply and moved onto part polygons.

Also used as a revision tool for my lower set Year 8s.

Answers included.

I hope you enjoy! Please leave feedback if possible.
Read more