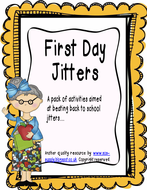 Back to School - First Day Jitters Activity Pack
This activity pack is perfect for the first days back at school but is also great for use in your guided reading sessions at any time of the year. It is designed to test pupils' understanding of what they have read, stretch their comprehension skills, and develop speaking and listening skills. It is also a good, fun way to help prepare children for SATs/National Tests.

Contents (27 pages)

1. Pre-reading activities to extend prediction skills
2. Post reading activities to extend cause and effect, inference and deeper examination of the text
3. Discussion cards with thought-provoking questions for group work
4. Reading comprehension - sequencing activity
5. Grammar exercises - editing sentences and alphabetical order
6. Story map -characters, setting, problem and solution
7. Writing non-fiction - informal letter, my perfect day at school
8. What's in my lunchbox?
9. My first day jitters
10.Two truths and a lie
11. Key words flashcards
12. Teacher/student comparison
13.Compound words
14.Certificate

The unit comes complete with all of the resources you will need to deliver it, as well as teacher answer keys where applicable.
Read more
About this resource
Info
Created: Apr 19, 2017
Updated: Feb 22, 2018