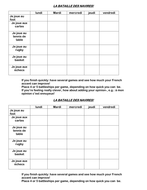 battleships
This resource is designed for US teachers. View UK version .
Other resources by this author
I gave the students the communication descriptors cut up and range/ accuracy to highlight they did the activities on the slides to help them unders...
Miss Baxter
Introductory PowerPoint to environmental problems and what we could/ should do. Abholzung, Lufteverschmutschmutzung; man sollte....
Miss Baxter
Ich trage eine gepunktete Krawatte und meine glitzernden Stiefel. PPT and note to say clothes with correct adjective endings. Fits in with Wir gehe...
Miss Baxter
Popular paid resources
PowerPoint and accompanying workpack designed to encourage pupils to use a variety of complex structures in their spoken and written French. An ext...
maryjane1969
This is a lesson I produced for my Lower Sixth to introduce the subjunctive. There is a worksheet to accompany the presentation with a fairly compr...
maryjane1969
Print out the cards and laminate them. Pupils work in pairs or small groups and race against each other to form the perfect tense with the cards af...
maryjane1969
New resources
Article and exercises on family topic - the nature of mother-daughter arguments. Practises conjugation/grammar section of AS exam. Pupils must fill...
leptir109
Full explanation of why accents are used in French including activities and a section for pupils to search in a dictionary and find accents they ca...
leptir109
Updated resources
List of connectives that can be used as display.
mbailly
a worksheet on 8 subjunctive triggers for use at GCSE for more able students
anyholland
Surrealism, described and explained in quotes of the Surrealist artists: André Breton, Dali, Jean Arp, Miro, Duchamp - *free art-resource for stude...
Matrozenhof