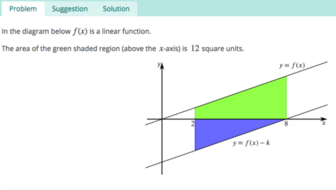 TES PICKS
Between the lines
This Underground Mathematics resource can help to deepen students' understanding of straight lines. The aim is to find a shaded area between two straight lines given minimal information.

Function notation is used on the given diagram and students should be encouraged to consider how much they can find out about the straight lines shown even though they are not provided with their equations. Thinking about the geometrical aspects of the diagram should be encouraged and some consideration of gradient will prove useful. This naturally leads to thinking about transformations.

The file attached is a HTML file, which, when opened, automatically redirects you to the problem on the Underground Mathematics website. Teacher notes to help you use this resource in the classroom are available on the site.
Read more