RE assessments to check understanding
Measure progress in RE lessons with this range of assessments, written tasks and practice questions
Regular assessment helps you to find out what students have learnt and how well they can express their knowledge. From checking end-of-topic understanding to exam technique, we have selected a range of resources to support you in identifying pupils' progress.
KS3 resources
Find out how much your Year 7 class already know about the six main world religions with this adaptable baseline assessment, complete with answers. Or, why not challenge older KS3 students to provide a written answer to this prejudice and discrimination assessment task, which gives them an opportunity to discuss Martin Luther King and Malcolm X? 
This Holocaust project culminates in an assessment in which learners have to design and justify a memorial they have created by explaining its significance in a persuasive writing exercise. To cover a range of topics, check out this collection of 1-hour assessments, including mark schemes and feedback sheets.
This is a levelled baseline assessment, which I intend to use with Y7. Please leave feedback!
By
erica_10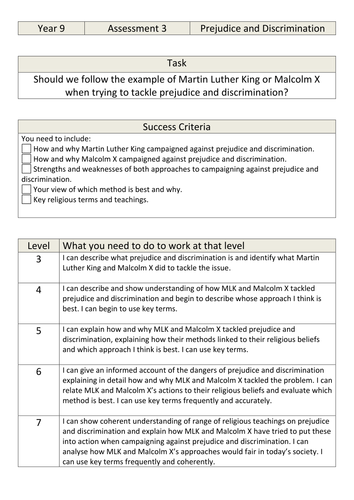 Assessment task with level descriptors along with a writing frame for lower ability students
By
samroberts86
KS4 and post-16 resources
It's never too early to start familiarising students with exam questions. Ranging from definitions to exploring each side of an argument, these practice questions on Christianity are ideal for testing knowledge and written skills. This Buddhist belief end-of-topic test is a great way of giving pupils formal exam practice and includes a model answer.
Similarly, this written assessment on peace and conflict will provide a clear idea of how pupils are progressing along with tips for answering exam questions.  Finally, make sure your students fully understand the keywords that will be using with this definition test.