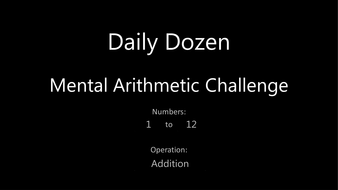 Daily Dozen: Mental Arithmetic Starter on Addition (Junior)
Daily Dozen free sample!
This is a single powerpoint that gives your class painless practice at mental arithmetic. It has a set of 12 randomly selected questions using addition and numbers from 1 to 12.
When your class starts, you can have the initial slide displayed, then, once everyone is ready, you click - each question is displayed for 5 seconds. This gives students practice at answering quickly, thereby sharpening their skills. It also helps develop concentration and perseverance in the face of challenge.
Students need only compete against themselves, but they should be able to see improvement as the days go by and may well strive to improve of their own accord.

If you would like to order more Daily Dozens for your class, simply search "Daily Dozen" on tes.com!
Read more
About this resource
Info
Created: Sep 14, 2017
Updated: Feb 22, 2018