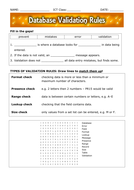 Database Validation Rules Information & Activities
Access Database validation checks
Read more
Other resources by this author
This is a funny script taking around 10 minutes to perform. It is essentially about a knight plucking up the bravery to ask out the prince/princess...
clickschool
https://www.clickschool.co.uk/seatplan **LATEST**: Online seating plan generator - paste lists from SIMS or similar, group/distribute students, sho...
clickschool
The idea is that students complete them on the computer, then upload to their eportfolio/VLE. The worksheets can be modified to suit your requireme...
clickschool
Popular paid resources
When these booklets are printed you have 8 theory lessons primarily based on the BBC Bitesize website. Follow the bitesize online pages and activit...
anthellison
These past exam questions formatted in writing frames will help students answer 6 mark questions. Hopefully gets the pupils thinking about the stru...
anthellison
Revision Mind Maps for Edexcel GCSE ICT Unit 1
andy_panay1
Updated resources
More than 600 computing terms explained in Plain English and designed to be used as exam answers - many of the definitions are based on the mark sc...
Maths4Everyone
Kodu is a friendly graphical programming language where students can build their own world and program objects within. This series of lesson uses k...
chris_vidal
This SMART Notebook activity helps pupils to consolidate their knowledge of what the buttons on Bee-Bot do.
colnbrookg