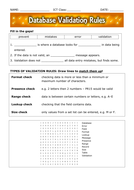 Database Validation Rules Information & Activities
Access Database validation checks
Read more
Other resources by this author
https://www.clickschool.co.uk/seatplan **LATEST**: Online seating plan generator - paste lists from SIMS or similar, group/distribute students, sho...
clickschool
The idea is that students complete them on the computer, then upload to their eportfolio/VLE. The worksheets can be modified to suit your requireme...
clickschool
This is a funny script taking around 10 minutes to perform. It is essentially about a knight plucking up the bravery to ask out the prince/princess...
clickschool
Popular paid resources
When these booklets are printed you have 8 theory lessons primarily based on the BBC Bitesize website. Follow the bitesize online pages and activit...
anthellison
These past exam questions formatted in writing frames will help students answer 6 mark questions. Hopefully gets the pupils thinking about the stru...
anthellison
Revision Mind Maps for Edexcel GCSE ICT Unit 1
andy_panay1
Updated resources
These tasks cards will really test your students understanding of scratch. Students are given jumbled blocks, they will need to read the scenario t...
balsamgr8
Let your students become familiar with Scratch Programming before they even use the software. Students are given a maze with symbols on them. They ...
balsamgr8
This unit covers learning aim A1 and is the first five lessons of the BTEC Digital Information Technology qualification. We have broken this down i...
Rethink_Education
Related content