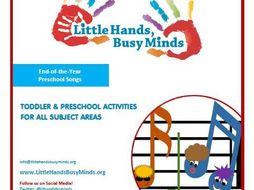 End of the Year - Preschool Songs
Preparing a celebration for the end of the school year is a must-do for teachers. Many parents wait anxiously to see their children perform cherished songs, or share their accomplishments with a musical slideshow. But finding the right songs for children is not an easy task! Songs need to be easy and engage children in active movements. Below is a collection of great End-of-Year Songs that are perfect for small children and classroom celebrations. These melodies can easily be found on YouTube.
Visit our store for more freebies and resources for toddlers and preschoolers.
Read more