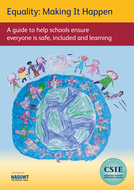 Equality: Making It Happen - A guide to help schools ensure everyone is safe, included and learning
CSIE's go-to equality guide helps schools address prejudice, reduce bullying and promote equality holistically. Created with primary and secondary schools, this is a "seductively practical" set of reference cards covering all aspects of equality. It offers key information, simple and practical advice, equality audit tools, examples of good practice and links to sources of further information and support. As one Assistant Headteacher said: "this should be part of every teacher's toolkit". A SENCo has described the guide as "an absolutely amazing resource that is easy to use and extremely well designed" and an Inclusion Manager has said that it "can have an impact on children's life chances and, ultimately, on the kind of society we live in".

"Equality: Making It Happen" is sponsored by teachers' union NASUWT and has won an Innovative Practice Award 2016 from the Zero Project, for a world with zero barriers.

Extracts from "Equality: Making It Happen", including Frequently Asked Questions, equality audit questionnaires and a range of reference cards, are available either free or at £2 each from our CSIE shop: https://www.tes.com/teaching-resources/shop/CSIE. Go ahead and explore, choose what is right for you and invite your colleagues to look too! CSIE is a charity that works for equality, not for profit, but relies on sales of resources for its income.

Hard copies of "Equality: Making It Happen", including CD, are available from http://www.csie.org.uk/resources/current, where you can also access information on training and support for schools alongside the guide.
About this resource
Info
Created: Sep 7, 2016
Updated: Feb 22, 2018