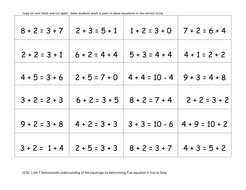 Equations True or False
Students evaluate equations to determine if they are true or false.
About this resource
Info
Created: Jul 28, 2015
Updated: Aug 19, 2015
Categories & Grades
Other resources by this author
How to label number lines with fractions from 0 to 1.
PatriciaMP
Students start telling time using a clock with only the hour hand to learn about the position of the hour hand for time to the hour and half-hour. ...
PatriciaMP
Students practice division using the story, The Doorbell Rang, as a springboard,
PatriciaMP
Popular paid resources
A self-contained game to be played in pairs. Use to revise reading coordinates on a grid. Best played once coordinates have already been introduced...
Miss-Becky
Recommended by TES Panel. An investigation which allows the learners to find the rules for transformations plus some example questions. PLEASE REVI...
kmbheck
2018 VERSION NOW AVAILABLE HERE! (copy and paste link) https://www.tes.com/teaching-resource/new-2018-ks2-sats-revision-ultimate-3-in-1-maths-organ...
ambowers2
Updated resources
This activity helps to strengthen students' skills in substituting a value into the formula of an arithmetic sequence. Click --> https://tes.com...
Maths4Everyone
This activity requires students to look at inequalities on a number line and write them in the form a ≤ x ≤ b. Click --> https://tes.com/.../Tre...
Maths4Everyone
This activity gives students practice at interpreting inequalities written in the form a ≤ x < b. Click --> https://tes.com/.../Treasure Hunt...
Maths4Everyone