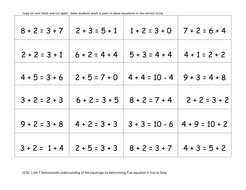 Equations True or False
Students evaluate equations to determine if they are true or false.
Read more
About this resource
Info
Created: Jul 28, 2015
Updated: Aug 19, 2015
Report a problem
Other resources by this author
How to label number lines with fractions from 0 to 1.
PatriciaMP
Students start telling time using a clock with only the hour hand to learn about the position of the hour hand for time to the hour and half-hour. ...
PatriciaMP
Students practice division using the story, The Doorbell Rang, as a springboard,
PatriciaMP
Popular paid resources
A self-contained game to be played in pairs. Use to revise reading coordinates on a grid. Best played once coordinates have already been introduced...
Miss-Becky
Recommended by TES Panel. An investigation which allows the learners to find the rules for transformations plus some example questions. I have incl...
kmbheck
Recommended by TES. There are 4 sets of questions (Number, Algebra, Shape, Data) which are mainly A and A* (with some lower grade questions from to...
kmbheck
Updated resources
SOLUTIONS ARE INCLUDED IN THE DOCUMENT! This is a resource for the 2017 Edexcel spec for Further Maths 2 regarding the number theory section (Eucli...
alastairj123
Finding the Equation of the Line GCSE Maths worksheet. For finding gradients and other straight-line graphs questions on linear functions, try here...
MrMathsWorksheets
Join Mr A, Mr C and Mr D in this great rap song about coordinates, suitable for children in KS2. With memorable lyrics, hip-hop music and a catchy ...
mracdpresent
Related content