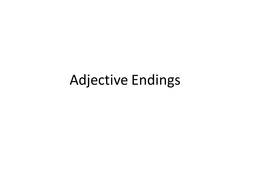 Explanation for adjective endings for DER-words
This is an explanation about German grammar.
Read more
About this resource
Info
Created: Jul 28, 2015
Updated: Aug 19, 2015
Other resources by this author
This is an explanation about German grammar.
ampeterlin
Popular paid resources
A Level Reading task detailing Jean Moulin's arrest Reading comprehension questions Vocabulary task Summary Task Possible stimulus for IRP
nadinepgs
Video Clip detailing life and work of Lucie Aubrac Accompanying comprehension question sheet Possible stimulus for further personal research
nadinepgs
GCSE German reference booklet for students. This contains: Information about all tenses The case system Group talk Examples of complex language to ...
HJPembrey
New resources
Exam-style article and gap fill on whether modern technology is a blessing or a curse - could be followed by the AQA oral card (June 2011 I think?)...
leptir109
Updated resources
This German reading is on the life of Albert Einstein the famous physicist. It talks about his early life, education, marriage and legacy. The read...
ninatutor
A short worksheet with 10 sentences in German for pupils to insert the correct word for "who" or "which". All possible spellings of "who/which" are...
jac42
This worksheet is a structured and fairly simple way to practise using German verbs in the present tense. Spielen is written out in full as a guide...
jac42