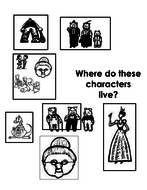 Fairy Tale Homes
Cut and stick activity- children match characters from fairy tales with their homes.
About this resource
Info
Created: Mar 27, 2007
Updated: Aug 19, 2015
This resource is designed for US teachers. View UK version .
Other resources by this author
There are 4 resources here: INTERACTIVE WHITEBOARD A blank time line to be labeled with decades and 6 pictures of cars throughout the ages. As clas...
liz_obrien
A picture to start discussion about sounds in the world around us (science) or can be used in literacy as a stimulus for simple sentence writing. '...
liz_obrien
The picture is a starting point for discussion about things that are living and non-living. Drawing from that what it is that makes something livin...
liz_obrien
Popular paid resources
This is a hugely popular revision tool for the Y6 Reading SATS test! Get ready for the 2018 KS2 reading assessments with this SATS Question Generat...
KS2History
This has been designed so students can work together during a pre-exam breakfast session in preparation for the AQA English exam on Friday 25th May...
Lead_Practitioner
This fantastic collection of puzzles, board games and quizzes were designed for children who love David Walliams' books. These resources are based ...
crigdon
New resources
A simple work sheet getting students to engage with the poem in an analytical manner. Ideal as cover work or revision
lizziedc92
Editable and changeable P.E.E. table format, with space for students to plan different points they want to make in their analytical writing.
aliceboyd1995
Created by a team of excellent teachers and designers, these are specially designed resources related to three of Lovecraft's timeless works: The W...
natasha717
Updated resources
Particular focus on the Eduqas Poetry Anthology poems: 'The Manhunt' by Simon Armitage and 'Mametz Wood' by Owen Sheers. Resources include a detail...
btmmadstuff
These assessment sheets are ideal for in-class assessements in Year 10 (in preparation for the GCSE exam in Year 11) and for Year 11 examination pr...
chirpyandcheerful
This Revision guide includes a paragraph by paragraph plan for each Essay title comparing The Handmaids Tale and Feminine Gospels by Carol Ann Duff...
revisionguidemachine