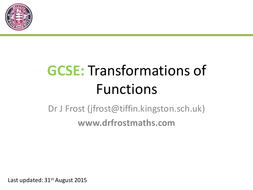 TES PICKS
GCSE - Transformations of Graphs
Comes with Powerpoint, worksheets and assessment.
Read more
About this resource
Info
Created: Aug 31, 2015
Other resources by this author
Comes with Powerpoint and worksheet. Includes harder follow up questions where you use a completed congruence proof to make subsequent justifications.
DrFrostMaths
(a) Plot and recognise quadratic, cubic, reciprocal, exponential and circular functions. (b) Plot and recognise trigonometric functions within the ...
DrFrostMaths
Covers all aspects of the GCSE curriculum, including algebraic problems where volumes/surface areas are equated. Includes a Powerpoint presentation...
DrFrostMaths
Popular paid resources
Recommended by TES Panel. An investigation which allows the learners to find the rules for transformations plus some example questions. PLEASE REVI...
kmbheck
These two lessons and worksheets are lessons which cover the translations of graphs and the knowledge of stretching a graph by a given scale factor...
sjcooper
This great value bundle contains complete notes and examples for all of the year 2 topics of the new linear maths A Level. You will receive 20 book...
Omega
14 Resources

20% off

$53.68

$

42.94
Updated resources
Activity for students to identify correct equation for different graph sketches. Includes trigonometric, quadratic, cubic, quartic, exponential, re...
TenTors
These topic-focused SATs questions at the end of a unit will help to test and extend students' understanding as well as helping them to prepare for...
Maths4Everyone
This carefully selected compilation of exam questions has fully-worked solutions designed for students to go through at home, saving valuable time ...
Maths4Everyone