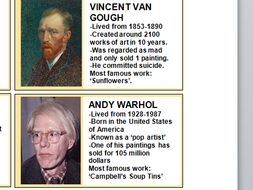 Grades 2-5 Set of 24 famous Artists 'Who am I?' cards.
Grades 2-5 Set of x 24 "Who am I?" cards featuring 24 of the most well- known visua/creativel artists from 1600's until present day. Each card has up to four simple facts alongside a photograph of the artist. Includes Monet, Degas, Rembrandt, Van Gogh, Modigliani, Turner, Klimt, Munch, Hirst, Koons, Banksy and more!
Can be used as part of a timeline or as History of Art/ famous artist research cards. Great for playing a range of games with small groups to encourage knowledge of artists and their most famous work. eg– Guess who?, Pairs(using 2 sets of the cards), Snap (using 2 sets of cards), Who am I?
Read more