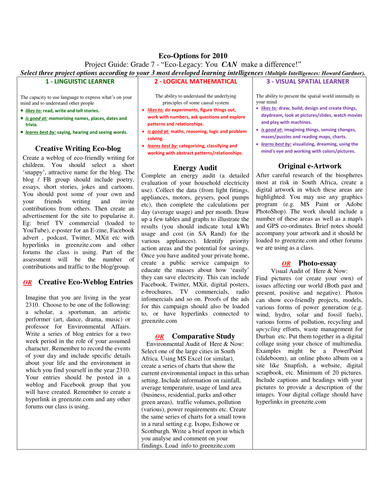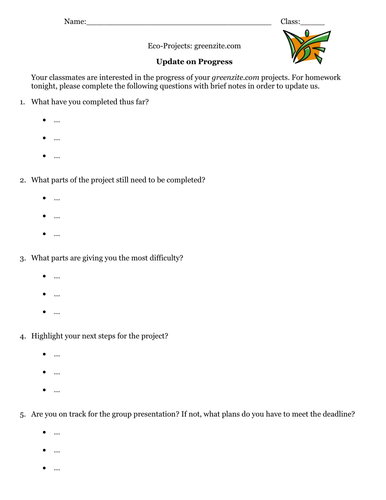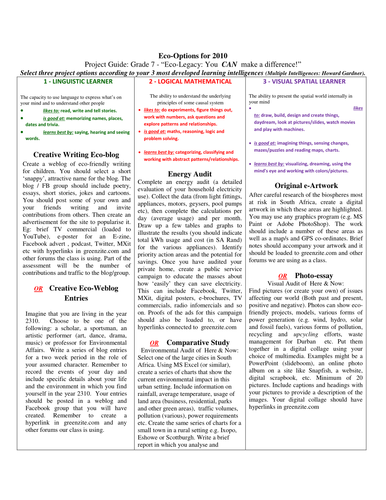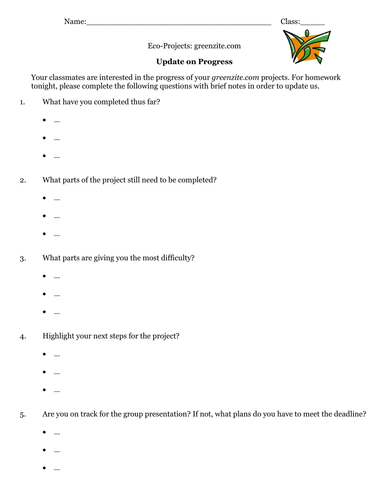 This is one part (though a substantial part) of Eden College Durban's Upcycling Project for 21st Century Learning. A broad-based resource which can be adapted to suit a variety of ages and levels - Great summer project for your learners. The project is linked to a Facebook group - greenzite.com and to a Wiki - http://greenzitedotcom.wikispaces.com. This comprehensive UPCYCLING and eco-awareness project is based on 21st Century Learning skills and could extend over a number of weeks OR… you could select just one aspect from the 'greenzite.com' project sheet and complete just that. Subjects/Learning Areas covered include: English, EMS, Technology, ICT, Mathematics, Science, Art, Dance, Drama, Music and Geography. A few examples of activities: Composing music, choreographing dance, blogging, writing poetry, conducting an energy audit, social networking (Facebook) and so on. Using their 3 stronger learning styles (Howard Gardner's Multiple Intelligences - see the other greenzite.com resource pages for these docs), each pupil completes the 3 associated projects from the 'greenzite.com' Project sheet (attached). Progress Update Form for monitoring projects included. Please ask your learners to join the Facebook and Wiki groups mentioned and give feedback and progress reports to the site as they proceed. The more participation and feedback from around the world, the richer the learning experience for all concerned. This will encourage the pupils at Eden Middle School by proving that they can indeed make a difference - even as individuals! You may use the material and change it to suit your situation; the only condition being that you supply feedback and suggestions to the groups (web addresses above or emails below). Should you be able to add materials and resources to the project, this would also be valuable and greatly appreciated. Further resources will be posted over the next few weeks (worksheets, examinations, project sheets and examples of pupils' work). Should you need further information or wish to make suggestions, please contact Mr Charli Wiggill at charliw@telkomsa.net (between 12 June and 11 July, please contact at thewiggills@telkomsa.net)
Creative Commons "Sharealike"
Something went wrong, please try again later.
Thank you for sharing your resource. This resource has been recommended for teachers by the TES Resource Team.
Support for Eco-Project. Hi <br />Please would you post a comment here and in the FaceBook group 'greenzite.com' so the grade 7s at Eden College become aware of other pupils creating eco-friendly and green projects elsewhere in the world. They have been good st posting info on the FB group and I'm attempting to illustrate to them that they can indeed make a difference - please would you help me in putting across this message; it will be greatly appreciated. <br />Best wishes <br />wiggs
Report this resourceto let us know if it violates our terms and conditions.
Our customer service team will review your report and will be in touch.