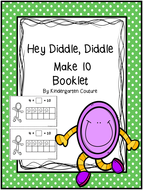 Hey Diddle, Diddle Make 10 Booklet
Students can count on these ten frames to determine how many more dishes are needed to make 10. Put the pages in any order you wish. There are two books on a page making it easy peasy to run through the copy machine with a staple on the left side. Great for math centers, independent work, or morning work. Students can count on, use counters, color in, stamp, sticker or dauber the spaces to figure out how many more to make 10.
5 Pictures change from page to page in this booklet.
Read more