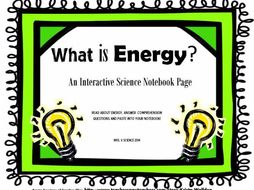 Kinetic and Potential Energy: Interactive Science Notebook
This is a great resource for students to glue into their interactive science notebooks. Page one includes a brief reading with information introducing students to the concepts of potential and kinetic energy.

Students then define key terms, answer questions and interpret diagrams. The resource gets glued into their notebooks as an excellent study guide. Great for teachers who do not have textbook sets to send home with their students!
Read more