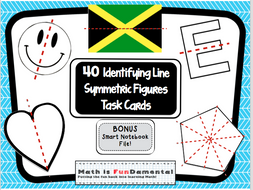 Lines of Symmetry Task Cards with BONUS Smart Notebook File 4.G.A.3
If you are viewing this product, then you probably already know of the usefulness and versatility of task cards. They work great for centers, partner activities, and general review. Kids love them because they can move around and work at their own pace, too.

This set of task cards is designed to help students practice identifying lines of symmetry in geometric figures (4.G.A.3). It includes a variety of styles of figures to examine symmetry including letters, polygons, flags, and icons/logos. Included as a bonus is a smart notebook file which can be used to introduce the skill. Linked in the Notebook file is a Kahoot game to go along with the skill practice, too!
Read more