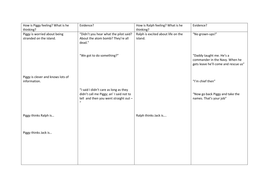 Lord of the Flies new GCSE English Literature AQA. Lesson3/Chpt1: inference skills - Piggy's diary
In this lesson students use inference skills to explore the different personalities and reactions to the situation shown in Ralph and Piggy. Students collate these ideas in groups before using their inferences and quotations/ideas from the text to incorporate into a convincing piece of creative writing in the form of Piggy's diary.
Modelled examples from the point of view of Ralph are included along with graded success criteria linked to the level of inference used in their writing to assess Lit AO1. There are optional slides included to provide scaffolding and support for lower ability students in structuring, organising and starting their paragraphs.
Read more