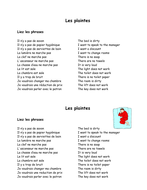 Match up the problem in French with the problem in
This is really a translation of Sunrise's great handout in Spanish. I just wanted to have one in French too.
About this resource
Info
Created: Mar 29, 2010
Updated: Aug 19, 2015
This resource is designed for US teachers. View UK version .
Categories & Grades
Other resources by this author
This will keep the students quiet last lesson on a Friday while they colour things in and make a vocab list with dictionaries. You might want to ex...
Nickyga
This will need editing for your personal school. The Song for Quelle est la date de ton anniversaire? is from good old " un kilo de chanson&qu...
Nickyga
I adapted a gap fill exercize from the ZUT website to make it more user friendly for my 12th Grade doing reviewing on " at the doctor's"
Nickyga
Popular paid resources
PowerPoint and accompanying workpack designed to encourage pupils to use a variety of complex structures in their spoken and written French. An ext...
maryjane1969
This is a lesson I produced for my Lower Sixth to introduce the subjunctive. There is a worksheet to accompany the presentation with a fairly compr...
maryjane1969
Print out the cards and laminate them. Pupils work in pairs or small groups and race against each other to form the perfect tense with the cards af...
maryjane1969
New resources
Quiz sur Noel : multiple choice exercise on the topic of Christmas
Zoe2007
Powerpoint slides and worksheets introducing and practising language to discuss helping marginalised people in society. There are links to five rel...
lucyday73
Quick printable to cut out, laminate and label: Rooms in a primary school Items in a classroom Raise the profile of French in your school by making...
naomifrench
Updated resources
Practice French reflexive verbs (verbes pronominaux, réflexifs), mostly in present and past tense, with 3 emails (courriels), 3 activities. The fir...
AuteureSofi
Learn as you teach: Primary French unit, continuing the unique KS2 Level 1 Primary French series with a focus on supporting non-specialist primary ...
scwebster
Preparation for speaking test. Questions.
Bongo90