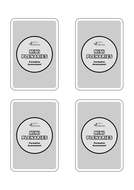 Mini Plenary Cards (Grey Backed Cards)
Mini plenaries are a type of formative assessment and are a great way to review progress of learning during a lesson. It also allows pupils opportunities for self reflection. "Teachers have also begun to be more flexible in introducing effective 'mini plenaries' at critical points in a lesson to review progress, clarify misunderstandings and move the work forward (OFSTED Dec. 2003)". Just ask a pupil to select a card and in so doing will feel like they are taking responsibility for their own learning.

Just print out 9 copies of page 1 of the PDF and return to the printer for double sided printing and then print out pages 2-10. It is best to print out the cards on thick paper/thin card. I have laminated my set for durability.

There are five sets available from my TES shop, the only difference is the back design, the actually mini plenary suggestions are the same. This is the grey backed design.

Keywords: formative assessment, mini plenaries, plenary, assessment.
Read more