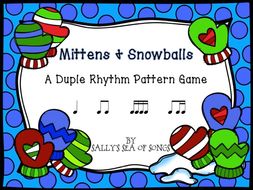 Mittens & Snowballs Duple Rhythm Patterns Koosh Ball Game Level 2
Practice rhythm patterns with this fun Koosh ball (snowball) game! Tap the mittens, or gently throw a koosh ball at the interactive whiteboard to reveal a duple meter rhythm pattern. Work in teams for a fun rhythm game, or as an individual assessment. Printable cards suitable for centers are also included!

Rhythms include quarter notes, barred eighth notes, 4 barred sixteenth notes, and 1 eighth-2 sixteenth notes. This PowerPoint file will work with any counting system.
Read more