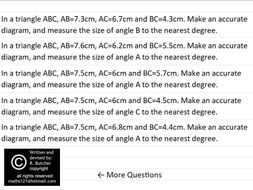 TES PICKS
Practice Construction of Triangles and Recognising Loci
An Excel Workbook containing two spreadsheets to practice the GCSE skills of recognition of loci construction and constructing triangles accurately. One sheets has an associated answer sheet going through each question. The questions have multiple choice answers, generated using the answer and potential misconceptions. If the correct letter is given it turns the answer box green, or red if incorrect. Note that your computer will need Microsoft Excel with Calculation Options set to 'Manual' and Macros enabled. There is a set up sheet which gives some advice on how to do this. Clicking the 'More Questions' black square will clear the sheet and recalculate questions and answers. Excel's Zoom Bar can be used to scale the sheet up and down to fit on your monitor. Note that as the questions are randomised, some questions could be repeated. With a constant number of re-generated questions (and answers), students can practice this to their heart's content. After all, practice makes perfect!
About this resource
Info
Created: Jan 21, 2018
Updated: May 10, 2018
Other resources by this author
You can download here all of the premium interactive spreadsheet resources to compliment the free ones available in my shop. This bundle includes t...
Ralphbutcher
15 Resources

20% off

$40.74

$

32.59
An Excel Workbook containing a spreadsheet to practice the GCSE skill of utilising a mean average to calculate information. The sheet has an associ...
Ralphbutcher
An Excel Workbook containing six spreadsheets to practice the GCSE skills of finding volumes of cuboids, volumes of a trapezium, areas of circles, ...
Ralphbutcher
Popular paid resources
A self-contained game to be played in pairs. Use to revise reading coordinates on a grid. Best played once coordinates have already been introduced...
Miss-Becky
Differentiated worksheets for children to complete. Each worksheet contains photographs of shapes that the children must construct then answer ques...
juliannebritton
There are about 17 (practical and fun) lesson activities, tasks or worksheets to cover the following 2014 objectives: Recognise angles as a propert...
jreadshaw
New resources
Inspired by aap03102 and his excellent relays https://www.tes.com/teaching-resource/maths-relay-races-problem-solving-puzzles-6064073 I created thi...
whistleandsums
I have memories of completing this activity at school - we would use a template or draw our own axis to draw straight lines to matching the numbers...
jorgill
A simple Christmas dinner ingredients themed Maths worksheet on proportion . Suitable for KS2 Years 5 and 6 or KS3 Year 7
Bottlebank
Updated resources
This resource relates to counting 2D shapes of different colours. It is a 3-in-1 product that covers the early learning of colours, shapes and basi...
Ro_Milli0110
These two worksheets are extremely good for making students think! They will need to use their knowledge of interior and exterior angles in polygon...
Maths4Everyone
These two worksheets require students to think how to use their knowledge of interior and exterior angles in polygons. The sheets can be used for w...
Maths4Everyone