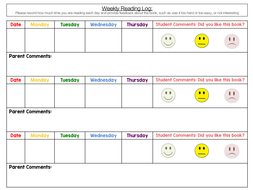 Reading Log for Weekly Reading
This is a template of a reading log for my students that goes home with their reading folder each week. It provides for 3 weeks of reading before it needs replacing. Students and parents can record how many minutes they are reading each day, the student can rate their opinion of the book, and the parents can write comments based on how the reading went.

Please make sure to rate and leave feedback!
Read more