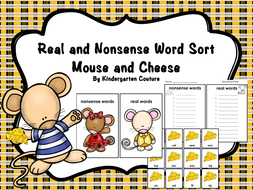 Real And Nonsense Word Sort -Mouse And Cheese
Students will enjoy sorting real and nonsense words using these Mouse And Cheese Sorting Mats. There are 12 nonsense word cards and 12 real word cards. The words are simple cvc words. After students have sorted the cards they can record them on the matching recording sheet.
See Thumbnails for what it looks like.
Read more