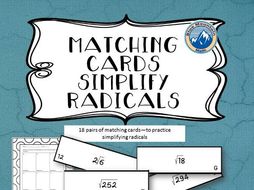 Simplifying Radicals Matching Card Set
18 pairs of matching cards to practice simplifying radicals in the classroom. One half the cards has a radical and the other half show the simplified answer. Great for centers or practice for students who need a little extra help.

I use in pairs or small groups and have students work together to match up and discuss their approach to finding the solutions. Promotes discourse in the classroom as well as encourages problem solving from multiple perspectives.
Read more