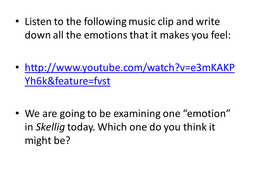 Skellig: Chapters 12-16 Proulx Mapped
A lesson on tension in narratives, starting with a seperate written extract (written by me!) then focusing specifically on Skellig. Taught to a high ability class.
This resource is designed for US teachers. View UK version .
Other resources by this author
Descriptive writing lesson for a KS3 SEN class focusing on characterisation, based around the theme of 'Monsters', and developed to relate to Hallo...
SammyChuckle
Debating Skills Preparation for a speaking and listening controlled assessment on the topic 'Mobil Phones should be banned'. Includes general GCSE ...
SammyChuckle
Second film studies lesson on the mise-en-scene. Includes note-taking grid and links to film clips. For a KS4 SEN class.
SammyChuckle
Popular paid resources
Resources to introduce dystopian/post-apocalyptic literature conventions to AS students, but also suitable for GCSE or KS3 students. Designed to le...
archev
These 'Library Challenge' cards were made for my class library, but they could be used in a school library as well. The idea was just to get the ch...
sh2810
A complete 12 week scheme of work that is fully resourced and differentiated. Contains powerpoint lessons, medium term plan, text extracts and samp...
stebbingk05
New resources
This engaging and informative lesson enables students to make detailed and precise interpretations of the character of Abel Magwitch in Great Expec...
TandLGuru
This 16-lesson (4-week) unit explores a prescribed selection of stories from volume 2 of Songs of Ourselves, as determined by Cambridge Internation...
Angelil
70 exciting Assessment for Learning activities - make each lesson fun and varied with over 100 different ideas for assessment activities and ways t...
lordturner
Updated resources
This black-and-white sheet offers creative writing and colouring opportunities for young children, with a snail as the subject. The huge, hand-draw...
katewilliams_poetry
This homework booklet has been designed in order to cater for the KS3 class after reading Blood Brothers.
vkondou
This is an adapted SOW with EFL suggestions.
vkondou