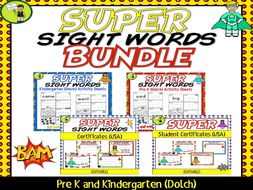 TES PICKS
Super Sight Words Bundle (Dolch) - PreK-Kindergarten
This Super Sight Words Bundle features the 52 Kindergarten Dolch Sight Words AND 40 PreK (Primer and Pre-Primer) Dolch Sight Words in engaging superhero themed printables to help your students gain sight word fluency! Use this as part of your Word Work Daily 5 activities or as an addition to your writing program. A great bonus – NO PREP! Just PRINT and GO!

It also features editable Pre-K and Kindergarden Sight Word Certificates in a Superhero theme. There are 17 certificates in a variety of styles. These are editable so you can type directly into them.

Lastly, this bundle features 17 Superhero Themed Classroom Celebration Certificates that are also EDITABLE!

These cover a range of curriculum areas, and once again, you can type directly into them.

Once purchased, if you need any headings changed, you can email me directly at topteachingtasks@gmail.com and I will do this for you.

Words included in this pack are: a, and, away, big, blue, can, come, down, find, for, funny, go, help, here, I, in, is, it, jump, little, look, make, me, my, not, one, play, red, run, said, see, the, three, to, two, up, we, where, yellow, you AND all, am, are, at, ate, be, black, brown, but, came, did, do, eat, four, get, good, have, he, into, like, must, new, no, now, on, our, out, please, pretty, ran, ride, saw, say, she, so, soon, that, there, they, this, too, under, want, was, well, went, what, white, who, will, with, yes.

Copyright ©Top Teaching Tasks. All rights reserved by author. This product is to be used by the original downloader only. Copying for more than one teacher, classroom, department, school, or school system is prohibited. This product may not be distributed or displayed digitally for public view. Failure to comply is a copyright infringement and a violation of the Digital Millennium Copyright Act (DMCA). Clipart and elements found in this PDF are copyrighted and cannot be extracted and used outside of this file without permission or license. Intended for classroom and personal use ONLY.
About this resource
Info
Created: Jun 19, 2017
Updated: Feb 22, 2018
By adding a School licence it allows you to share this resource with colleagues at your school. Without it, this resource is licensed for use only by you. Read licence details
Other resources by this author
This Maori Myths and Legends Reading Resource includes FOUR Year Five and Six, Literature texts with six engaging text dependent higher order think...
topteachingtasks
This Super Sight Words Bundle features the 52 Kindergarten Dolch Sight Words AND 40 PreK (Primer and Pre-Primer) Dolch Sight Words in engaging supe...
topteachingtasks
This pack involves 154 Year One Sight Word Flash Cards based on the New Zealand (NZ) curriculum High Frequency Sight Words. Use these flash cards a...
topteachingtasks
Popular paid resources
10 fully resourced lessons to prepare students for the AQA English Language Paper 2, Section A exam: 'Writer's Viewpoints and Perspectives'. This r...
RojoResources
Children loved making pizzas at our Italian pizza class. Resources have been exported from an Activ-primary flip-chart. (Which also includes Italia...
jreadshaw
This is a fun, imagination-firing, creative writing activity, centred on a pirate's treasure map. It has proved popular with children of all ages a...
katewilliams_poetry
New resources
70 exciting Assessment for Learning activities - make each lesson fun and varied with over 100 different ideas for assessment activities and ways t...
lordturner
Collective Nouns 32 slide editable PowerPoint presentation with 1 worksheet Collective Nouns is made up of a 32 slide PowerPoint with an accompanyi...
Teacher-of-English
Pupils choose one of 9 questions in a fun and easy to tailor to a topic, interactive PowerPoint presentation. Quick, easy, fun and effective way to...
lordturner
Updated resources
Children will prototype Christmas stockings before researching different Christmas stockings over time. They will then design, make and evaluate th...
erinbrasington
This resource is a bundle of three different units related to Christmas STEAM: 1. Design your own elf shoes 2. Explanation text about how to make e...
erinbrasington
This resource has been made to use alongside Christmas STEAM: Design Your Own Elf Shoes. Children will write a persuasive text about their shoes in...
erinbrasington