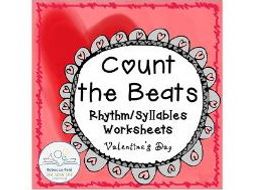 Syllable Counting Valentine's Day/Heart Theme
This freebie contains three Valentine's Day themed worksheets for kindergarten or 1st graders. As students say the name of the animal or Valentine's Day item aloud, they count the beats and draw a line (2 worksheets) or circle the correct number of beats (1 worksheet). Featuring attractive clip art from the aptly named mycutegraphics.com, Count the Beats: Valentine's Day should make counting syllables fun this holiday.

Correlates to Common Core State Standards RL.K.2b "Count syllables."
Read more