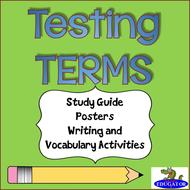 TEST PREP Test Terms - Study Guide, Posters, Writing Sheet, I Have Who Has
This test prep packet has 25 terms essential for success on standardized tests. List of terms and definitions to use as a reference sheet, student study guide page, 25 colorful posters which can also be projected on your whiteboard, a writing activity sheet, and an I Have Who Has game! Learning the words that are used in test questions is a great test taking strategy. Fun way to expand student vocabulary of testing words and testing vocabulary.

©2017 HappyEdugator.
Read more