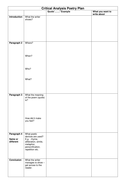 The Tyger SEN Exam pack
SEN exam worksheets so that students are able to revise and think about the poem, before being tested.
About this resource
Info
Created: Feb 25, 2017
Updated: Apr 20, 2017
By adding a School licence it allows you to share this resource with colleagues at your school. Without it, this resource is licensed for use only by you. Read licence details
Other resources by this author
This planner will provide you with all the information you need to keep on top of students annual reviews. Ensure that you show your efficiency wit...
teachmomo
This resource makes this topic accessible for lower ability students, which leads to greater understanding, rather than having to rely on a more co...
teachmomo
This resource is aimed at encouraging SEN students to access An Inspector Calls text so they are more familiar with quotes, which in turn will help...
teachmomo
Popular paid resources
This is for any GCSE (or exam) subject. This download includes a generic (multi-subject) A3 double-sided DIRT worksheet and PowerPoint instructiona...
godwin86
Spring /Easter Poetry Learning Intention : to compose Spring Poems/ Easter Poems PowerPoint presentation which provides a stimulus for a variety of...
Alice K
An annotated copy of the poem Harmonium by Simon Armitage with some extra ideas for development. Annotated for teacher notes but easily adaptable f...
KateFal
New resources
Resources to facilitate teaching on Robert Burns. Includes a PowerPoint to introduce Burns and describe his life and work. Also includes a lesson p...
Jemmab100
Cooperative learning is an educational approach which aims to organize classroom activities into academic and social learning experiences. There is...
lordturner
Explanations and activities for your pupils to develop their understanding of poetic techniques. These can be used as lesson openers or revision to...
NiamhMcCurry
Updated resources
Year 3, lesson plan, powerpoint and resource/activity sheet, activity involves using a thesaurus. Success criteria is included on the powerpoint. l...
Nazu90
This is a hugely popular revision tool for the Y6 Reading SATS test! Get ready for the 2018 KS2 reading assessments with this SATS Question Generat...
KS2History
This resource comprises a picture-poem frame sheet and a one-page guide for teachers. The hand-drawn butterfly picture-poem is a Literature resourc...
katewilliams_poetry