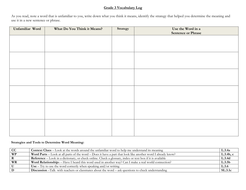 Vocabulary Log for learning new words: Grade 3
This is a log that students may use to track new word knowledge and the strategies they use to gain the new word meaning. It is also a formative assessment for teachers. Aligned to Common Core State Standards: L.3.4
About this resource
Info
Created: Jul 28, 2015
Updated: Aug 19, 2015
Categories & Grades
Other resources by this author
This rubric is aligned to the CCSS for speaking and listening.<br />CCSS alignment: SL.5.1, SL.5.2, SL.5.3, SL.5.4, SL.5.5, SL.5.6
pdalfonso
This oral presentation rubric is aligned to the CCSS.<br />CCSS alignment: SL.K.1, SL.K.1, SL.K.2, SL.K.3, SL.K.4, SL.K.5, SL.K.6<br/>A...
pdalfonso
This rubric is aligned to the CCSS.<br />Common Core Alignment: SL.3.1, SL.3.2, SL.3.3, SL.3.4, SL.3.5, SL.3.6
pdalfonso
Popular paid resources
10 fully resourced lessons to prepare students for the AQA English Language Paper 2, Section A exam: 'Writer's Viewpoints and Perspectives'. This r...
RojoResources
Children loved making pizzas at our Italian pizza class. Resources have been exported from an Activ-primary flip-chart. (Which also includes Italia...
jreadshaw
This detailed, differentiated and fully resourced lesson explores the themes of fate and free will in Act 1 Scene 5 from Romeo and Juliet, Shakespe...
Lead_Practitioner
Updated resources
A Grade GCSE English Literature Essay on the poem 'next to god of course america i' by E.E. Cummings. The essay is around 1600 words.
biggles1230
In this lesson we explore Romeo's use of language as he meets Juliet for the first time and how she responds to his use of religious imagery. Using...
Lead_Practitioner
Ideal for both KS3 and KS4 students, this fully resourced and differentiated lessons looks at the way Dickens presents Scrooge as an outsider and s...
Lead_Practitioner