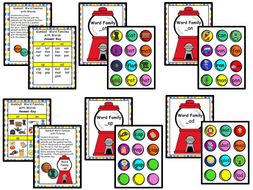 Word Families with Short A - Gumball Theme
This gumball theme center reviews word families specifically at, an, ap and ad. Students read the word or look at the picture and sort them with the gumball machine that has the correct word family. Students may check their work using the answer key however you may find it easier for younger students if you write the correct answer on the back of the gumball.

All you need do is print the pages on white index paper, laminate and cut out the pieces. Centers may be stored in file folders, manila envelopes or Zip lock baggies.
Read more