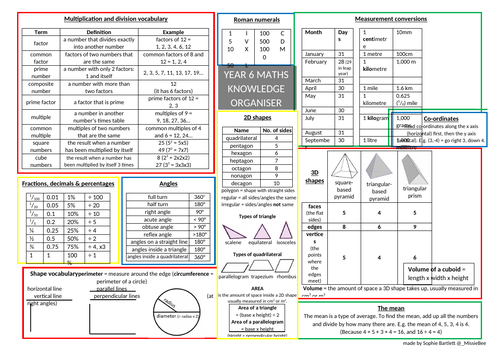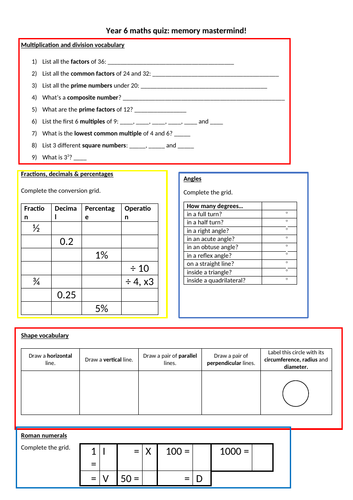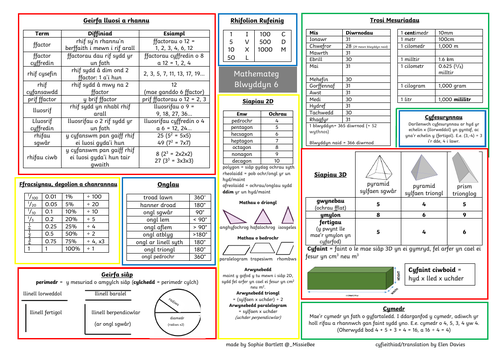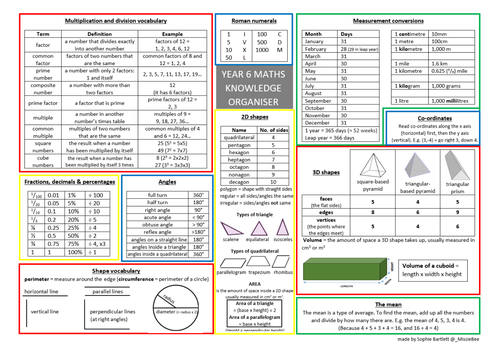 *This took me hours to make and I always share my resources for free. However, if you have found my knowledge organiser useful and would consider chucking a book my way (I'm trying to collect class sets for my class), I'd really appreciate it! My Amazon wishlist is here: https://www.amazon.co.uk/hz/wishlist/ls/36JJE26YLGHYC?ref_=wl_share *
EDIT: I have now added:
a quiz directly linked to the KO that can be used to baseline assess children on what they already know. (I've used this to highlight a copy of the KO for each child so they know what to focus on)
a Welsh version of the KO, kindly translated by Elen Llwyd
an A3 version of the KO, adapted by Joe Cooper
I have also now created a Kahoot quiz based on the knowledge organiser to help with revision - see link below.
My Kahoot quiz: https://create.kahoot.it/share/year-6-maths/f89ed095-b37e-47e1-b2ee-92d4e138b603
Another Kahoot quiz: https://create.kahoot.it/details/y6-maths-knowledge/99e24f68-7add-4e88-898b-bee58275dae1
A few notes on this:
This obviously doesn't cover the entire curriculum (for one thing, it had to fit on one page!). I looked through the Year 3 - Year 6 maths objectives and picked out what requires the children to be able to recall certain information in order to solve problems in that content domain - this is what formed this knowledge organiser. Lots had to be omitted in order to fit - I made assumptions that children would (or at least SHOULD) know some of the 'easier' content, e.g. 100p = £1, place value, the 'simpler' shapes (sphere, cone, circle, rectangle)
For those 'oh look, more cramming for SATs' people - yes, it'll obviously be useful for SATs, but this is generally just good maths stuff that kids should know before going to secondary school, so I fully intend to use this after SATs too.
This is how I plan to use it: baseline assess the children on this information (I'm going to create a 'quiz' soon for this), ask the children to mark their own and highlight the areas on the KO that they need to learn, photocopy a copy of each child's for me and one to send home. Then I will regularly quiz them on it :)
Let me know if there is some glaringly obvious stuff missing, or something that's blatantly incorrect, but otherwise you don't need to let me know if you don't like the wording of stuff - feel free to just change it yourself for however you wish to use it. It is free, after all :)
Oh, and on that note, please don't copy and charge for this. That's just rude. Thanks.
A user named GammaRay has written something similar to this on his resources, and I'm going to use it for mine too: if you charge for your resources, then please don't download mine. All my resources are provided on a share and share alike basis, not those seeking to derail a collaborative community.
Creative Commons "Sharealike"
Something went wrong, please try again later.
Thank you so much!
Thank you - very useful.
Report this resourceto let us know if it violates our terms and conditions.
Our customer service team will review your report and will be in touch.