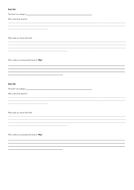 Year 5 reading resources The Blurred Man
Based on chapters 1, 3, 4 and 5
Guided reading activities for carousel.
For each of these chapters included is a set of comprehension questions (based on Year 5 reading objectives - new curriculum) and SPAG questions (again based on Year 5 objectives and some on previous year's objectives).
Separate 'Book Club' activity for children to review and recommend a book that they have read.
Read more